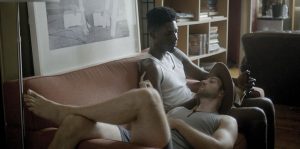 The 2020 Outfest Los Angeles LGBTQ Film Festival is happening… via drive-ins and livestreams. The Malibu-centric event will kick off its six days of programming with an LA-specific drive-in screening of The Nowhere Inn at 8 PM (PST), Friday, August 21. Click the link for their full drive-in and livestreaming schedule.
Outfest LA's "Under the Stars" drive-in experience will take place at the Calamigos Ranch in Malibu, where for two extended weekends the Festival will be hosting a series of drive-in screenings across six-nights on two lots, including both kick-off and closing events. Drive-in screenings will launch with a special, drive-in only Los Angeles premiere of Sundance 2020 title The Nowhere Inn, starring musicians Annie Clark and Carrie Brownstein in a reality-bending send-up of Clark's musical persona St. Vincent, and will also feature Patricia Vidal Delgado's feature directorial debut and poignant coming of age story, La Leyenda Negra about a a soon-to-be undocumented teenager fighting for her right to stay in America. Country artist Brandon Stansell will perform a live drive-in set prior to a screening of his documentary Three Chords and a Lie, while the final drive-in screening will be the world premiere of Outfest's closing film, Two Eyes, directed by Travis Fine, and featuring a century-spanning story of queer and trans people from three time periods in the American West learning to express their identities and finding community. Screening will be preceded by a live musical set by cast member Ryan Cassata, as well as a pre-recorded musical set by cast member Nakhane out of London. The drive-in screenings are sponsored by Outfest Los Angeles's Automotive Sponsor Hyundai.
In the digital space, the Tony Award® winning John Cameron Mitchell (Hedwig and the Angry Inch) will host a livestream marathon listening party of his critically acclaimed musical podcast, Anthem: Homunculus, featuring performances by Mitchell, Glenn Close, Cynthia Erivo, Patti LuPone, Nakhane, Denis O'Hare, and Laurie Anderson, among others. The 10 episode series, created and written by Mitchell and Bryan Weller and produced by Topic Studios, features more than 30 original songs. The podcast will be paired with specially-created visuals, live drop-ins and Q&A with Mitchell and possible special guests. Lily Tomlin and her longtime life partner Jane Wagner will join Outfest Los Angeles for a livestream discussion with director Joan Churchill about the long-unavailable 1986 documentary Lily Tomlin: The Film Behind the Show, which charted the creation of Tomlin's Broadway smash, The Search for Signs of Intelligent Life in the Universe. Legendary queer filmmaker Cheryl Dunye and producer Effie Brown will also do a live Q&A about Dunye's 2001 HBO original film Stranger Inside, previously unavailable to stream and available on Outfest's digital platform for free during the entire festival run. Outfest's annual Trans Summit will also migrate to the digital space, with keynote addresses and panel discussions from groundbreaking trans and non-binary artists.
Outfest Los Angeles' outdoor program and streaming platform will bring 160+ films, including 35 world premieres, 10 North American premieres and 4 U.S. premieres to Los Angeles for 2020. This year's Outfest Los Angeles LGBTQ Film Festival will run August 20-30, and will be accessed via www.outfestla2020.com for one All-Access Pass to OutfestNow (app now available for Roku, AppleTV, Android, ioS), where centerpiece films, premieres, and hand-curated programs debuting daily. Select packages of Festival Favorites will also be available for direct purchase.
Header image is from the film, Cicada.