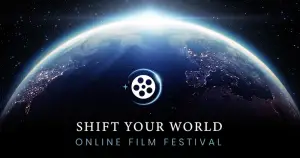 One of the few film festivals devoted to conscious and spiritual filmmaking at its best. The Shift Your World Film Festival culminates with the announcement of the Culture Shift Legacy Awards, honoring a feature film and short film that have contributed to humanity's collective evolution. Audience and jury awards will be announced after the conclusion of the festival. Premiering May 6th-9th, 2021, the Shift Network Presents Shift Your World Film Festival: Calling the Future Into Focus, featuring 17 inspirational films that uplift the spirit and inspire action to create a better future for all.
Opening night presents the virtual festival premiere of The Portal. Panels and conversations with filmmakers. VIP Upgrade pass includes on-demand viewing of select content through May 23; access to the VIP Lounge — private immersive virtual lounge rooms for weekend receptions hosted by festival producers; Special exclusive screening on May 15: The End of the Line: The Women of Standing Rock.
Shift Your World Film Festival is the brainchild of The Shift Network, a global leader in online transformational education, media, and events. Shift has touched millions around the globe with classes and festivals that inspire change. Now Shift add the power of film to inspire a future full of possibilities, and create a more respectful relationship with our fellow humans.
Register now at the official site for the Shift Your World Film Festival.