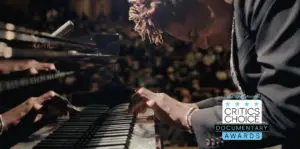 The Critics Choice Association (CCA) has listed the nominees for the Eighth Annual Critics Choice Documentary Awards. Winners will be announced on November 12, 2023, at The Edison Ballroom in Manhattan. Wyatt Cenac will host again this year.
American Symphony leads the pack with six nominations including in the category of Best Documentary Feature. The film's other nominations are Matthew Heineman for Best Director, Tony Hardmon, Matthew Heineman, and Thorsten Thielow for Best Cinematography, Sammy Dane, Jim Hession, Matthew Heineman, and Fernando Villegas for Best Editing, Jon Batiste for Best Score, and Best Music Documentary.
"We are thrilled with the number of exceptional documentaries released theatrically and on streaming this year and are very excited to introduce an overdue category honoring true crime films and series," said Christopher Campbell, Vice President of Documentaries of The Critics Choice Association. "This event is about showcasing and celebrating the best in nonfiction, and I want to congratulate all of our nominees and thank them for making us see and think about the world in new ways."
Besides the 18 award categories, Ross McElwee will receive the Pennebaker Award, formerly the Critics Choice Lifetime Achievement Award. This honor is named after D A Pennebaker, a past winner who died in 2019. Chris Hegedus, Pennebaker's spouse and producing partner, will present the award. McElwee has made ten feature-length documentaries as well as a number of shorter films. Sherman's March has won numerous awards, including Best Documentary at the Sundance Film Festival. Sherman's March was also chosen for preservation by the Library of Congress National Film Registry in 2000 as a "historically significant American motion picture."
You can watch the Critics Choice Documentary Awards live on Facebook, YouTube, and X (previously Twitter) at 7:00 PM ET on Sunday, November 12. Find the streaming links on the Critics Choice Association website.
---
Nominees for the 8th Annual Critics Choice Documentary Awards Presented by National Geographic Documentary Films
BEST DOCUMENTARY FEATURE
20 Days in Mariupol (PBS)
American Symphony (Netflix)
Beyond Utopia (Roadside Attractions)
The Deepest Breath (Netflix)
The Eternal Memory (MTV Documentary Films)
Judy Blume Forever (Amazon Studios)
Kokomo City (Magnolia Pictures)
The Mission (National Geographic)
Stamped from the Beginning (Netflix)
Still: A Michael J. Fox Movie (Apple TV+)