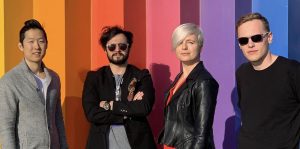 Filmocracy, the world's premiere digital screening, distribution, and experience platform, today announced FestDance, a must-attend industry summit for the post-COVID film festival age. Held over two days September 22nd-23rd in Los Angeles, FestDance offers a comprehensive yet compact schedule of panels and workshops along two tracks: film festivals and filmmakers. Alongside those professional gatherings, FestDance will offer coffee talks, happy hours, and film screenings daily. Live, in-person screenings will take place each evening, with audiences also having the opportunity to participate in the whole program virtually.
While most festivals are continuing to offer virtual programming either before or concurrently with their in-person events, Filmocracy's fusion system allows physical and virtual audiences to simultaneously enjoy the same content with cross interactivity.
"The last year has seen wholesale upheaval of the festival universe, and FestDance will help both film festival administrators and programmers, along with their partners in the filmmaking community and even students or film fans, explore the film industry while celebrating the new era of digital festivals and cinema, and emerging technologies. says FestDance co-founder Jon Fitzgerald. "We will show where we've been, what we've done and what's to come. Together, we'll chart a path for the future."
Filmocracy is well-suited to this endeavor. Filmocracy built the first true immersive and branded film festival experience platform, which has been used by festivals from Aspen Shortsfest to San Diego International Film Festival, as well as the American Film Market (AFM) to deliver a superior digital exhibition and community experience for festivals. It has executed one-off live streaming events for both high-profile films like RZA's Cut Throat City and indie fare like Diogo Pinto's Deconstructing Val that have drawn thousands of viewers.
"…Filmocracy's fusion system allows physical and virtual audiences to simultaneously enjoy the same content…"
Last December, Filmocracy launched Filmocracy Fest, one of the first film festivals designed as digital from the ground up. At the same time, Festival veteran (Slamdance, AFI, Santa Barbara) Fitzgerald published an extensive survey of film festivals outlining the benefits and challenges of a digital film festival universe.
"Among the findings," it was reported at the time, "filmmakers want more revenue-sharing, networking opportunities, and data from online festivals, while rifts between festivals, distributors, and filmmakers adjusting to this new normal present opportunities for all parties to rethink how their relationships work."
"FestDance is an opportunity to continue that conversation in a hybrid world," Fitzgerald says. "Digital presentation is here to stay."
"I think FestDance is an opportunity for the festival and filmmaker community to take stock, absorb all the last eighteen months, and collaborate to share best practices and make for a more robust, impactful, profitable film festival ecosystem," adds Filmocracy CEO Paul Jun. "We're going to use our own platform to deliver an informative, exciting and content-rich experience while fusing the digital and in-person audiences."
FestDance delegates will have an opportunity to network, share ideas and explore future collaborations during morning Coffee Talks in the Filmmaker Pavilion, taking place daily September 22nd-23rd and during Happy Hours with surprise guests taking place daily from in the Saloon (Filmocracy Fest featured daily beer tastings from local Boomtown Brewery). Live and interactive workshops will allow festivals to explore new revenue models, and how technology is reshaping the landscape. In addition, filmmakers will have an opportunity to work with an experienced team on developing custom festival strategies to suit their projects.
Media are welcome at all festival events, panels, screenings, happy hours, and coffees. Accredited media will also have an opportunity to schedule interviews with festival staff and filmmakers over the course of the Festival.
Registration is open at www.filmocracy.com/festdance and offers a full two-day digital or in-person pass for $100; individual events are $10. The All-Access VIP Pass includes entry to all FestDance panels, coffee and happy hours, and screening. Other ticketing options include the student pass at $75.00.