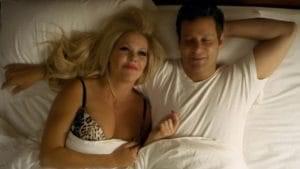 This April, Jonathan Burke asks the question Who's Jenna…?, in a new Indie comedy starring Tracey Birdsall and Bill Sorvino.
Jonathan (Bill Sorvino), a successful financial advisor, starts dating Jenna (Tracey Birdsall), an accomplished lawyer. Jonathan's best friend, Andy (Joseph D'Onofrio) is obsessed with the idea that she looks exactly like a famous adult film star. Not only does Jonathan have to deal with Andy's craziness, but he also has to juggle his relationship with his boss (Garry Pastore), Jenna's brother in-law, who is possibly black-mailing him. A film that "includes plenty of comedy, zaniness, drama, and porn" (B Movie Nation), written and directed by Thomas Baldinger.
Who's Jenna…? is available starting on April 24th on VOD and DVD.
And now, here's a nice surprise, the Film Threat exclusive premiere of a clip from Who's Jenna…? 
The full film trailer: