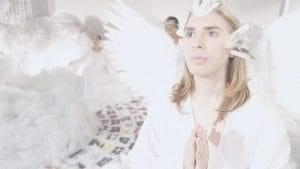 Claire Wasmund wanted her directorial debut At the End of the Tunnel finished so badly that she directed the shoot with forty staples in her abdomen 2 weeks after having twenty pounds of masses surgically removed.
Apart from the importance of being her first feature film, she felt strongly about having women in key creative roles and a Latino lead actor. She did not want to cancel the shoot to recover from her surprise surgery.
"Latinos have so few speaking roles in Hollywood, and when they do, they're often stereotypes. Women fill so few key roles on set, so there was no way we were going to let a film with a compelling Latino character, a female director, and DP be set aside."
Working on a micro budget with a female DP and editor Claire shot the film in eleven days using her IndieGoGo funds and borrowed cars, apartments, and equipment. She wants everyone to know that there are no excuses in Indie film.
Darkly satirical At the End of the Tunnel is the story of a man who has a near death experience that changes his life and decides to share his spiritual epiphany with the world in a memoir. His journey to enlightenment and profit hits a bump when an ex-girlfriend threatens to reveal a dark secret that could ruin everything.
The film is now out in festivals. If it's as good as the trailer, it should be a treat.