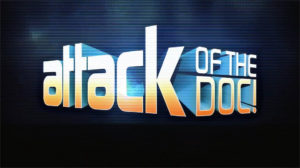 Prolific author, film critic, founder of Film Threat, regular on-air personality for G4TV's Attack of the Show, and beloved comic con staple, Chris Gore makes his directorial debut with Attack of the Doc! Gore's debut documentary addresses all the questions left unanswered by the cancellation of G4TV and Attack of the Show! Perfectly timed to the 21st anniversary of G4TV this year. G4TV's Attack of the Show! was a birthplace for nerd culture on broadcast TV and where audiences watched the careers of the show's hosts, Olivia Munn and Kevin Pereira, begin their ascent. "Attack of the Doc!" will world première on April 21st, offering Q&A's with Gore at the Frida Cinema in Southern California moderated by Film Threat editor-in-chief Alan Ng, and will be available through Indie Rights for audiences across all TVOD/Digital platforms and Video On Demand throughout North America on April 24th, 2023, which is the 21st Anniversary of the launch of G4TV.
Attack of the Doc! is written, directed & produced by Chris Gore, produced & edited by Bobby Schwartz, co-produced by Walter Areas, with additional co-editing by Anthony Ray Bench and Phillip H. Eubanks, and with an original score composed by Austin Smith. This deep dive documentary features pop icons including Wil Wheaton, John Cena, Joel McHale, Peter Jackson, Kumail Nanjiani, Whitney Cummings, Danny Pudi, Eric Andre, Jerry Stiller, Joe Rogan, Jimmy Fallen, Kel Mitchell, Anne Meara, Stan Lee, Sara Jean Underwood, Carrie Keagan, Riley Steele, Tom Green, Anthony Daniels, Michael Winslow, Joey Kern, Joan Rivers, Chris Hardwick, Robert Kirkman, Greg Nicotero, Jessica Chobot, Tony Hawk, and Alison Haislip, among others as we search for the truth.
"Attack of the Show! was unique, way ahead of its time, and was a milestone that had a huge impact on geek culture. Its core audience is one of the most coveted around the globe. I think viewers of the original show will be down for learning the history of the network and the show which helped usher in the age of nerd culture. Frankly, G4TV and Attack of the Show! are responsible for making it cool to be a nerd," states Gore. "And at the end of the day, I hope the documentary entertains fans and reminds them of a time when a TV show could be dangerous and provide some laughs without fear of being canceled. Everyone who worked on the documentary is a super fan, so this movie was made by fans for fans."
Tickets available here for the April 21st premiere, and follow the documentary and its journey here. Attack of the Doc! available on Video on Demand and TVOD/Digital platforms on April 24th, 2023, which is the 21st Anniversary of the launch of G4TV.