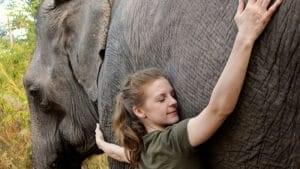 On Earth Day, April 22nd, 22 theaters across the country will host screenings of documentary Love and Bananas: An Elephant Story.
The film follows Sangdeaun Lek Chailert as she, Ashley Bell, and a team of elephant rescuers embark on a daring mission, 480 miles across Thailand, to rescue Noi Na, a 70-year-old partially blind trekking elephant, and bring her to freedom. Ms. Chailert was honored by Secretary of State Hillary Rodham Clinton as one of six Women Heroes of Global Conservation, and in 2017 was invited to attend and speak at the "Global Pact for the Environment" Summit at the United Nations, New York, by President Macron of France. Lek Chailert will travel to the United States in support of the film's release and to discuss the ongoing Asian elephant crisis.
Inspired by the film, GreaterGood.Org has announced they will join forces with the filmmakers to form the "Love & Bananas Fund."
The fund's initial goal is to raise $40,000 by Earth Day to rescue an Asian elephant named Sivilai, and to provide critical medical equipment and supplies to the Elephant Nature Park and Cambodia Wildlife Sanctuary for ongoing care. There are three ways for people to get involved and that is to Watch, Donate, and Sign. Please visit the site here to engage.