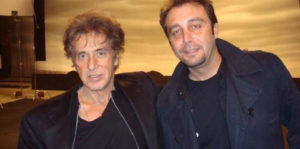 Opening day brings Angela Robinson Witherspoon's doc feature Betye Saar: Ready To Be A Warrior. "Make Better Art" is the phrase coined by famed 96-year-old Los Angeles artist Betye Saar, who describes herself as "an ordinary woman who does extraordinary things." Witherspoon's film documents Los Angeles-based national treasure Saar, who began her work in the Black Arts Movement of the 1970s and has always made "good trouble" exploding myths and stereotypes on her journey as a creator, teacher, activist, mother, and Black woman in America. The film—which has been screened at museums and institutions up until now—features John Legend, CCH Pounder, Alison Saar, Lezley Saar, Tracye Saar Cavanaugh, Tony Ramos, and Terrell Tilford, among others. Still active, look for her work in museums around Los Angeles (her last major museum exhibition was "Call and Response" at LACMA).
Like her predecessor Alice Guy-Blaché (the subject of Pamela Green's excellent 2018 documentary Be Natural), Dorothy Arzner was a powerful and pioneering film director who history has largely forgotten. She gets her due in Clara & Julia Kuperberg's short doc Dorothy Arzner: Pioneer, Queer, Feminist, playing on the 19th. Starting in the business at age 19 as an editor, Arzner became a director at Paramount as the first woman to direct a talking picture for silent star Clara Bow. A true pioneer of the cinema, she was the only woman director at a major Hollywood studio in the 1930s and 1940s, defying convention as openly lesbian, dressing like a man, and making movies "avant-gardiste" about women's conditions. A mentor of Francis Ford Coppola, who considers her one of the most important woman directors of Hollywood, the film also features Tony Maietta, Shelley Stamp, and Emily Carman.
"…tells us how Strep A ravaged his body and he survived almost certain death…"
Winner of the 58th Chicago International Film Festival Chicago Award, Harriet Marin Jones' doc King Of Kings: Chasing Edward Jones is a deeply personal (she's the subject's granddaughter), sweeping look at one of the most powerful and notorious Chicagoans of last century, racketeer Edward Jones. Head of the crime syndicate "Policy" in the 1930s and '40s, Jones went head-to-head and toe-to-toe with Al Capone's "Outfit" at the same time as he consorted with celebrated artists, including Josephine Baker, Frida Kahlo, and Duke Ellington. Ironically, Jones' rackets comprise the roots of the Illinois State Lottery. The filmmaker says, "Love, glory, violence, exile, success, revenge, mafia, murder, betrayal, prison, kidnapping…Edward Jones' story holds all the ingredients of the best gangster movies, film noir, and great Hollywood frescoes. Add segregation and injustice, and we have a very explosive cocktail!" Produced by and featuring Quincy Jones, screening April 22.
According to the BBC, "Six years ago Alex [Lewis] caught a cold that led to a life-threatening illness…" This is the jumping-off point for Simon Ratigan's Alex Lewis: Mountain. Ratigan says, "Alex Lewis is not someone you easily forget. [Lewis] tells us how Strep A ravaged his body and he survived almost certain death…alive but physically impaired, he lost all his limbs, leaving a self-confessed heavy drinker who was lazy, unadventurous, and a poor father to a three-year-old son to face life as a quadruple amputee." Turning his life around, Lewis sets off to summit the 15,000-foot peak Ras Dashen in Ethiopia using a specially adapted vehicle. Reviewer John Higgins says, "Alex Lewis: Mountain is not just a tale of how one man could overcome his own physical limitations, it is also a tale of how diversity and disability can triumph over all manner of challenges thrown your way when curveballs hit you from the centre plate of life." Playing on April 19th.