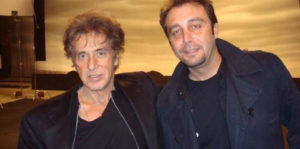 Some folks bemoan the loss of the Los Angeles Film Festival, claiming that without it, LA no longer HAS a flagship film festival. Pooeydorda! we say. From AFI to Dances with Films, from Method Fest to the TCM Classics Festival that just wrapped, Los Angeles likely has more film festivals of caliber than any other city, and, frankly, as befits the movie capital of the world. Many of them have been around for decades, hiding in plain sight—mainly at the TCL Chinese Theatres on Hollywood Boulevard. Thing is, on any given week, film fanatics can find showcases of new and classic works across the city.
So, what's next? The Beverly Hills Film Festival—celebrating its 23rd year—and its first-in person festival since the pandemic running virtual editions from 2020 through 2022.
Festival founder, president, and philanthropist Nino Simone is brimming with excitement for the upcoming event, opening April 19th. He says, "We can't wait to gather in person once again. Due to the pandemic, recent installments of the festival were virtual, but this year, the BHFF is returning to the red carpet. We are thrilled to get back to the original format and create an immersive experience that fully embodies the spirit of the festival. We look forward to reconnecting the festivalgoers and filmmakers in the heart of the entertainment industry to celebrate the art of film together."
"…look forward to reconnecting the festivalgoers and filmmakers…to celebrate the art of film…"
Simone says he watched a LOT of movies to winnow down selections to the 150 features and shorts unspooling April 19-22 at the TCL Chinese in Hollywood. There are also 150 screenplays vying for the top three spots for the fest's Screenwriting Awards. "While the number of screenings scheduled for viewing varies each year," he says, "I have sat down for a record 20 films in a row. I've probably watched over 15,000 films over the last 22 years." The festival has estimated audiences in excess of 40,000 for its screenings and hosts post-screening receptions each night and a gala Awards ceremony at its conclusion on April 23.
While it has a focus on new work by up-and-coming talent, The BHFF has recognized some established filmmakers and hidden gems buried in filmdom's past. From the first film ever shot in Hollywood—In Old California by D.W. Griffith—to discovering Federico Fellini's last film Verso La Luna Con Fellini, BHFF has paid homage to past greats and rising stars. Last year's selections included the feature documentary Roger Corman: The Pope of Pop Cinema with Ron Howard and Peter Bogdanovich; Root Letter, featuring Mark St. Cyr; The Sands Between with Jessica Chastain and James McAvoy; We Are Gathered Here Today with Danny Huston; Not to Forget, featuring one of Cloris Leachman's last performances; and The 90s Club with Dick Van D**e, among others.
From the 150 films screening on the BHFF slate, seven highlights below—mainly documentaries celebrating underrepresented voices—provide a survey of this year's feature slate to consider. Films are generally presented in blocks consisting of a feature and several shorts, so a favorite may bring some unexpected—but welcome surprises along with it.