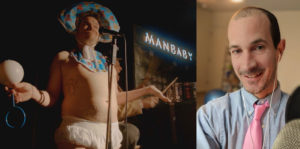 What were some of the challenges you faced during the pre-production and production phases?
Money and scheduling. Making a movie is really easy in so many ways, and at the exact same time, it's the hardest thing I'll ever do. Especially on a limited budget, there is never enough time, never the right time, never the right shot, and yet, somehow, we just keep at it, and it gets done. This movie took eight years. It's a labor of love, not just by me but my producer-partner and editor Joseph Campanale and the cast and everyone else in our lives who stuck by us to help us finish.
How did you sell the idea to your cast and backers?
The script. The script is solid. It might sound a bit cocky, but this is a very meticulously crafted, professional screenplay. I think when potential cast or crew read the script, they were either in all the way or out. Some great actors backed out because they didn't get it, but when people got it, they were all in, and at the first table read, everyone realized that this was not a lark but that we were aiming for something big and kind of new and ephemeral. A very kind fan wrote this movie was "one of a kind," which,  in a world saturated with media, is really great to hear, and I think it's why we have established a small but dedicated fan base.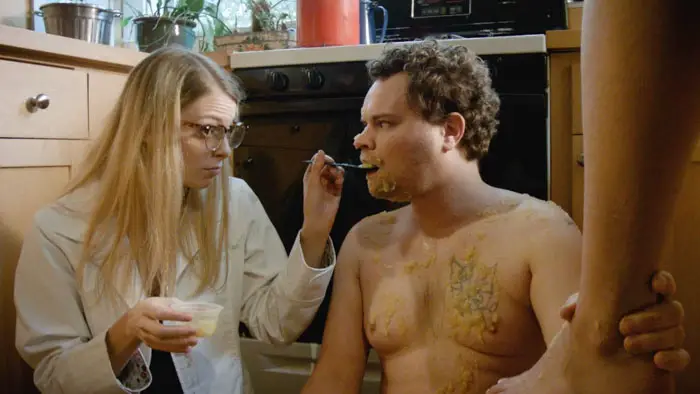 "…an absurd comic fable about what it means to grow up…make an audience laugh, squirm, and think."
A close friend is about to make their first independent feature. What is the one piece of advice you give your friend?
Write with the people and places you have or can get very affordably. Don't sit around and think about making something–go out and do it. At the same time, make sure you know what you want to say–take some time to consider what you are going to put into the world. Chase the magic.
What do you hope audiences take away from Manbaby?
Manbaby is an absurd comic fable about what it means to grow up. It was made to make an audience laugh, squirm, and think. I'm satisfied if this movie makes anyone do any one of those three things. With the amount of content out there right now, I'm satisfied when anyone simply watches it, undistracted from start to finish.
But I'd be most satisfied if it makes them stop and think. And I understand that's a lot to ask from a movie called Manbaby, with a grown man in a diaper acting like a baby and rather silly mad science labs.  But if you can suspend some disbelief and take the 90-minute ride with this movie, I think you will see there is a lot to contemplate about gender roles, heteronormativity, family and relationships, and life and death just under the surface.
I appreciate Film Threat and all you do for the little guys trying to get their movies seen! I hope you'll watch Manbaby on the big screen if you're in the LA area August 26-27 or online anytime!