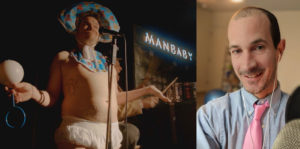 Comedian Sal Howard has a big problem: his wife, scientist Dr. Dana Howard, doesn't want kids. To save his marriage, Sal tricks Dana into thinking he's become a real baby to show Dana the joys of motherhood. Sal's harebrained scheme works. But the plan backfires when Dana develops a hormonal serum that can transform Sal into a full-time, adult baby–forever! Manbaby is an absurd, comic fairy tale about what it means to grow up.
Manbaby is not merely Big in reverse. We had a chance to talk with writer/director Tim Lightell about the inspiration behind turning a full-grown stand-up comedian into a full-grown adult baby and the struggles he faced in making this unique indie comedy.
---
Is there a moment you can identify where you thought to yourself, "I'm going to make movies when I grow up?"
Not really. I've been making movies since I was 3 or 4 years old. My first memory of making a movie is with my dad and my Masters of the Universe figures using his 8mm film camera. It's also my first disappointment, too, because I remember the distinct feeling of how the movie didn't look at all like the He-Man commercials on TV. I've always been making things, it's just life to me.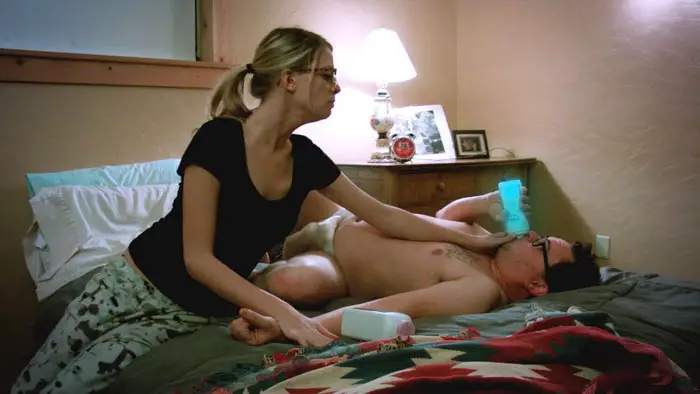 "…wanted to explore ideas about love and family…is really more post-exploitation."
What inspired the idea and ultimately the story for Manbaby?
Several years ago, I was working in adult entertainment doing fetish videos– feet, food, femdom, and diapering/ABDL–which was the biggest seller. Around the same time, I saw The Baby (1973), directed by Ted Post, for the first time on Netflix. Most of the movies I had been doing after film school were either corporate commercials or avant-garde/video art things. So I was looking for some kind of middle ground–a feature-length movie that would have a built-in audience and be a viable commercial product, but also be artistic and explore big ideas. I started writing a baby fetish exploitation movie, but I wasn't able to make a pure exploitation movie like The Baby because not only is it really difficult to be transgressive in the current culture, it's really not my interest. I'm not trying to shock anyone. I really wanted to explore ideas about love and family, but in a movie that people might actually watch. Manbaby is really more post-exploitation. It's not quite exploitation, and it's not quite an art film. Which I hope doesn't sound too phony, but it's true.
Manbaby also reminds me of Troma and Full Moon Feature films, was that inspiration as well?
Manbaby was definitely inspired by those movies. Movies that played on USA UP ALL NIGHT hosted by Rhonda Shear and Gilbert Godfried in the 80s and 90s. Troma movies, Cannon movies, Paul Bartel, and John Waters were definitely inspirations. I wanted to intentionally make a camp movie. But I wanted the camp and reality to mix. I was also inspired by Terrence Malick and Bernardo Bertolucci. I wanted to explore big ideas within campiness.
A couple of big reference points to this movie, which aren't obvious and that I've never talked about in any other press materials, are Tommy Wiseau's The Room (2003) and  Obayashi's House (1977). Both of those movies keep upping the ante in a way that I tried to do in Manbaby. Obviously, Manbaby doesn't come close to the imagination of those movies, but the intention of the script was always to get stupider and stupider (and stupider) until it actually gets smart.