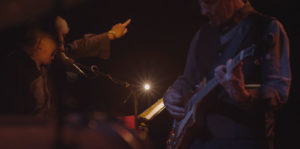 VASHON ISLAND FILM FESTIVAL 2023 REVIEW! When director, writer, and editor Jordan Albertsen set out to make a documentary film about the Pacific Northwest band The Sonics, he had no idea where it would lead except that The Sonics needed to be recognized and memorialized in rock 'n' roll's history. Making a second round of festivals and screenings with a new director's cut, Albertsen screened the latest version of Boom at the second annual Vashon Island Film Festival (VIFF), where it received the Audience Award from a very dedicated crowd of Sonic lovers, primarily representing the Pacific Northwest.
"The film became very meta for me," says Albertsen. "As the narrator, my story also became intertwined with The Sonics, which was a late addition to the documentary, but it was the only way to complete the film. I knew I had to make this film, no matter what."
Boom is an archival film that spans generations to tell the story of a band from Tacoma, Washington, who influenced many musicians and bands to become a worldwide phenomenon. The Sonics Larry Parypa, Andy Parypa, Rob Lind, Bobby Bennett, and Jerry Roslie, as well others who shared The Sonics stage to tell the band's story from beginning, middle, and end, and all the while, their manager Buck Ormsby, who worked on their behalf as a pied piper unbeknownst to the band, would eventually enshrine The Sonics as legendary and historic. In a way, Boom is a tribute to Ormsby, too.
"This band is why my father and I had the relationship we did," says Albertsen. "With a simple gesture by my dad, The Sonics became the kernel that shaped my entire life."
Boom contains a plethora of concert footage, archival images, and interviews, including Pearl Jam's Mike McCready, Heart's Nancy Wilson, Mudhoney's Mark Arm, The Presidents of the United States of America's Chris Ballew, Sub Pop's Jack Endino, songwriter Kurt Bloch, and many more who all expound upon The Sonics influence especially within the universally venerated Seattle garage band grunge music scene and beyond. The Sonics are said to have influenced the White Stripes, LCD Soundsystem, The Sex Pistols, and Nirvana's Curt Kobain, as documented in an interview, along with many other notable bands and musicians.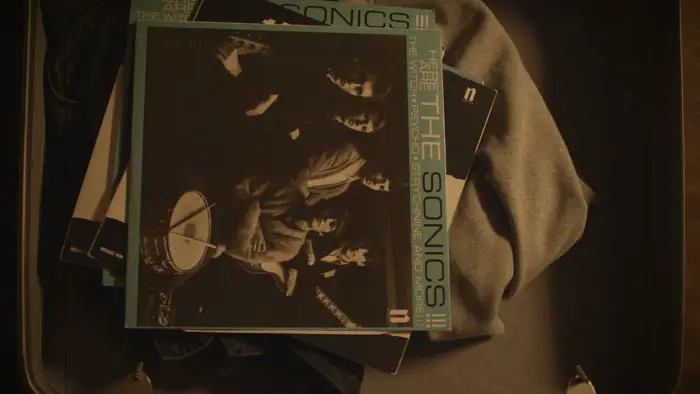 "The Sonics needed to be recognized and memorialized in rock 'n' roll's history."
Decades after The Sonics had reigned supreme, Albertsen traveled to England, where The Sonics continued to have an enormous following after they disbanded. Albertson's newfound appreciation for The Sonics eventually led to a reunion concert where fans would revel in their favorite and original Sonic songs, including Strychnine, Psycho, and The Witch.
"At the film's original premiere at the Raindance Film Festival in the UK, I looked out at a sea of crusty-old punk rockers who were all crying," says Albertsen. "The film went on to screen at over thirty other festivals and won many awards. For the film's new edition, I am working on distribution and a vinyl release of the film's soundtrack."
At the Vashon Island Film Festival screening, Chris Ballew moderated a Q&A with Albertsen, joined by cinematographer Chris Koser to expand upon The Sonics journey. According to Albertsen, Boom was wrapped in some unlikely situations, so the story needed to be updated.
"The Sonics had no idea of their reach," says Albertsen. "And they still don't. I hope that someday they realize how special they are."
Boom is a stylish documentary film that contains incredible footage found, given, and offered along with photography, archival imagery, music recordings, and in-depth interviews, revealing the expanse and lives that The Sonics touched with its iconic sound. Boom could be a love letter to The Sonics. However, Boom became Albertsen's personal life journey, solidifying his filmmaking career and his desire to continue telling a story so many want to hear.
Boom: A Film About the Sonics (Director's Cut 2023) screened at the 2023 Vashion Island Film Festival.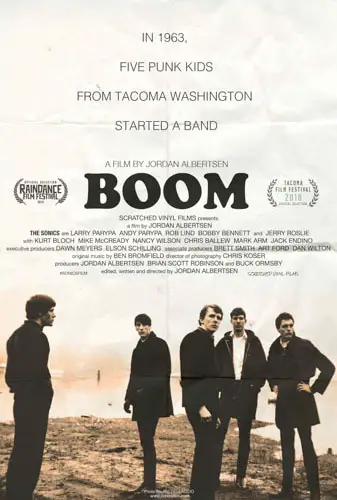 "…"The Sonics had no idea of their reach,""