Both brick-and-mortar and online casino operators have continued to develop interesting and more rewarding games. This has somehow attracted a lot of people into the world of gambling today globally. Casino operators have made available diverse game types that you can play whether on brick-and-mortar or online. Games types such as slots, blackjack, craps, baccarat, roulette, poker, and others with thousand variants are made available for gamblers to enjoy.  
Due to the rapid rise in the number of casinos and the ever-increasing number of gamers, producers have embraced the idea of casino-based films. These casinos-based films have become very popular because they present intriguing features thrilling both gamblers and non-gamblers.  It would be interesting to see a film based on online casinos, for example, a group of characters playing online blackjack.
There are many obvious reasons why films based on casinos are so popular. Some of the reasons have been outlined below.
Memorable characters
One of the major reasons films based on casinos are very popular is because popular characters are featured in these movies.  These films feature celebrities who have gone public about them playing at casinos. Some of these celebrities are James Caan, James Woods, Elisabeth Shue, Matt Damon, Jason Statham, Ray Liotta, John Malkovich, Nicholas Cage, Clive Owen, and a host of others.
Source of Inspiration
Most casino-themed movies serve as a source of inspiration to most gamblers. Some of these movies feature characters that hit high jackpots. This in turn inspires gamblers to play games, hoping that they will also get a reasonable reward. Additionally, watching these movies provide players with useful insights on how well to strategize. This insight is in turn employed in gaming.
High- crime background
Casino-themed films feature a high-crime environment. According to researchers, it is evident that land-based casinos are related to criminal activities. Therefore, most film-based casinos feature high-crime environments. Fortunately, some viewers derive pleasure in casino-themed movies because they enjoy the crime thrillers regardless of whether they are true or not.
Lavish lifestyles
Casino-based movies reveal the reputation of casino owners to be criminals. It shows the lavish lifestyles of casino owners. Due to the high profit they make from this business they spend extravagantly buying luxurious properties, cars, and accessories. These extravagant lifestyles seem appealing to some people making them derive interest in this type of movie.
Cost and filming location
Lots of money is involved in producing a casino-based film. The cost of making a typical interesting casino film is very high. Casino Royale is considered to be one of the most costly movies of all time. The cost of producing this movie was approximately $150 million. Imagine spending this high amount on a movie! This tends to make the movie magnificent and talk of the town.
The filming location also plays an impact on the cost of a movie. Why most films based on casinos are popular is the location that makes such films so attractive to viewers.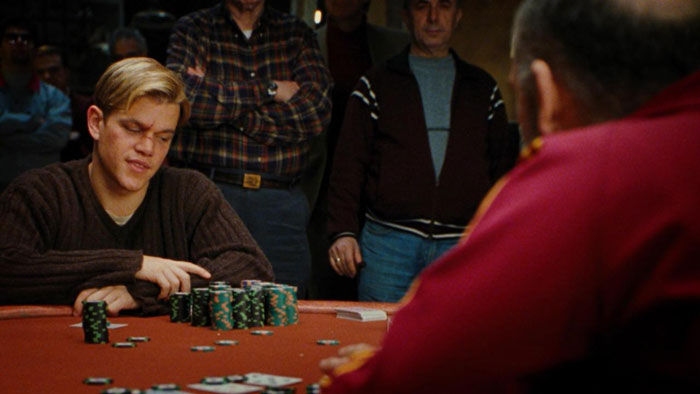 Affirmation of gambling myths
Most casino based movies add some bits of myths in them. They affirm myths such as the criminal background of the gambling industry, frequent wins, and skills. They also affirm that strategy or tactics used in gambling are more important than luck.  Most of these statements are fiction and untrue but they make these movie genres more thrilling. Based on this, viewers love them believing it to be true and trying to mimic the characters.
Some of the popular casino-based films are:
       

Big Game

       

Uncut Gems

       

The Hangover

       

The Sting

       

Rounders

       

Revolver

       

Casino

       

Molly's Game

       

Casino Royale

       

Leaving Las Vegas

       

The Gambler

       

The Cooler

       

The Hustler

       

Twenty-one

       

Scam

       

Ocean's Eleven

       

Player

       

Lucky You

       

Vegas Vacation

       

High Roller
Films based on casinos have become very popular among casino and non-casino players. The Hollywood movie industry invests a lot of money in this genre which makes it more thrilling. These films become popular based on the featuring of well-known characters, the cost of movie production and filming location, the re-affirmation of gambling myths, and also serving as a source of inspiration to gamblers. Although the modern-day casinos hold a better reputation compared to the past casinos, they are still viewed as being owned by criminals. Rationally, you should expect that presenting a high-crime environment in casino-themed movies should pose a negative effect on the gambling industry, however, this is not so.