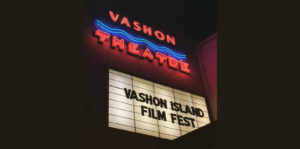 A FESTIVAL FOR THE TRUE INDEPENDENT FILMMAKER! After an inspiring debut event last July, the Vashon Island Film Festival (VIFF) returns on August 10-13, 2023, in Vashon Island, Washington. They are presented by the Vashon Film Institute (VFI), the recently formed non-profit organization that fosters independent filmmaking in the Pacific Northwest.
The inaugural event featured many cast and crew members who attended their VIFF screenings, including Juniper, 1-800-HOT-NITE, Freedom's Path, Tiger 24: The Making of a Man-Eater, Wes Schlagenhauf is Dead, and Good Girl Jane, who were all available for audiences to engage. And the community support of Vashon Island makes this festival, unlike many other independent film events, a destination film festival where film, food, and celebrations are top-notch.
For 2023, VIFF will screen ten features and ten shorts that are Northwest premieres or have recently distinguished themselves on the festival circuit. The Festival will also present a nightly selection of other exciting films, music, and culinary-centric events for patrons to experience, including a Filmmakers' Dinner, Friday Night Gala, Saturday Night Soiree, and the Red Bicycle Awards, which will feature notable film industry guests.
"The Vashon Island Film Festival for 2023 is building upon the strong foundation we laid last year."
Founded by veteran independent film producer and island resident Mark Mathias Sayre, "The Vashon Island Film Festival for 2023 is building upon the strong foundation we laid last year," he says. "Our focus is on honing and refining what made our inaugural festival successful—premium programming, a laid-back vibe, and a perfect time. The backbone, of course, is our beautiful island and the local community's dedicated support of the arts."
The Vashon Island Institute devoted last year's net profits from VIFF to the family-operated Vashon Theatre, a cultural landmark built in 1947, and plans to do the same for 2023.
"The community has always answered the call of its only motion picture house," says Sayre. "Whether the theatre needed new seating or an upgrade to its projection system, generous donations made it possible. And I'd like to think that Vashon Island Film Festival is a way to thank the community for their support while continuing to harness it."
The Vashon Theatre's latest exterior renovation features a spectacular, world-class outdoor space for film screenings and live musical performances, an amenity known as the Backlot at the Vashon Theatre.
"We plan to take full advantage of the Backlot," says Sayre. "It will host both the Saturday Night Soiree and the Red Bicycle Awards, and daily food and drink will be available."
To learn more about the Vashon Island Film Festival and how to attend, visit here.