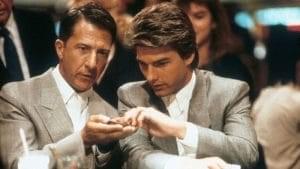 Many of the best gambling movies follow a similar path. They usually represent a very specific, low-budget genre and aren't usually instant hits, but they hold an indelible place in the mind of any adventurous person.
Only one of this list of gambling films made it to the National Film Registry, and only two won at the Oscars – but perhaps the lack of recognition was the key to the film's emergence as a cult classic?
It remains to be seen whether the Library of Congress will keep more of these gambling movies — it's doubtful — but in the meantime, you can start finding them on Netflix, Prime, YouTube, or you could play at an online casino for the same vibe.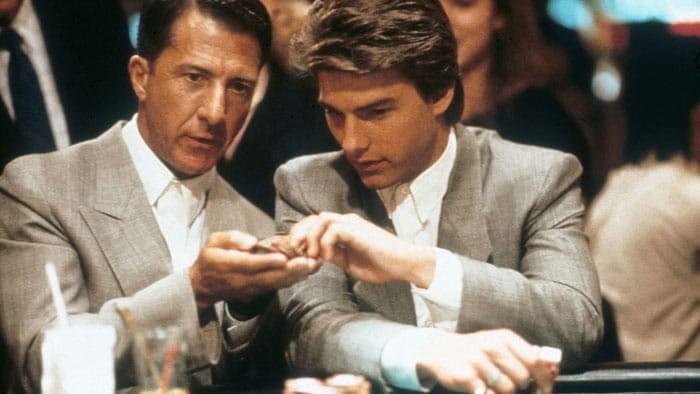 Rain Man
Rain Main, nominated for eight Oscars at the 1989 Academy Awards, is a cinematic masterpiece and a classic starring two great actors Dustin Hoffman and Tom Cruise. Young Tom Cruise plays Charlie Babbitt, a selfish Wheeler dealer who learns that his estranged father has died, leaving behind a multi-million dollar fortune. When he arrived at his father's house, he found that most of the property was in the hands of an unknown trustee.
He tracks down the money and finds it's being sent to a mental hospital, where he discovers he has an estranged autistic brother named Ray Babbitt (Dustin Hoffman). Charlie also soon discovered that his autistic brother had extraordinary memory and math skills.
He then tries to gain custody of Ray so he can take advantage of him and take control of the property. Even if you've never seen this movie before, you've probably seen a clip or two of it, especially the one where Dustin Hoffman wins money by counting cards in blackjack. The scene is so iconic that it has been parodied or referenced in countless movies since then, including The Hangover.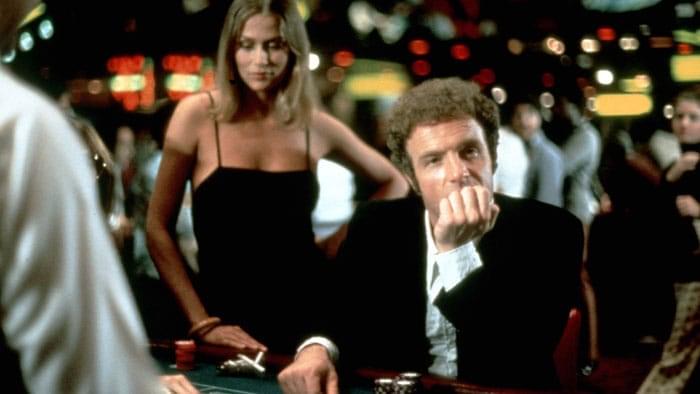 The Gambler
James Caan is no stranger to gambling movies, but his role in The Gambler is far less light-hearted and more dramatic than his role in Honeymoon in Vegas. The Gambler focuses on a New York English professor and follows a gambling addict's uphill battle to pay off his debts.
To win more money and pay off his debts, he took out a small loan and headed to Vegas to try and make a bigger profit from it. But again he lost all his money on bad basketball bets. To get out of trouble and pay off the loan sharks that followed, Axel himself turned to cheating and game manipulation.
The Gambler isn't as full of ups and downs as most of the movies on our list. Instead, it steadily builds up action and intensity, unveiling a stunning climax that will leave you thinking for days after watching the movie. A sympathetic protagonist, a touching story and a great performance make everything a true gambling classic.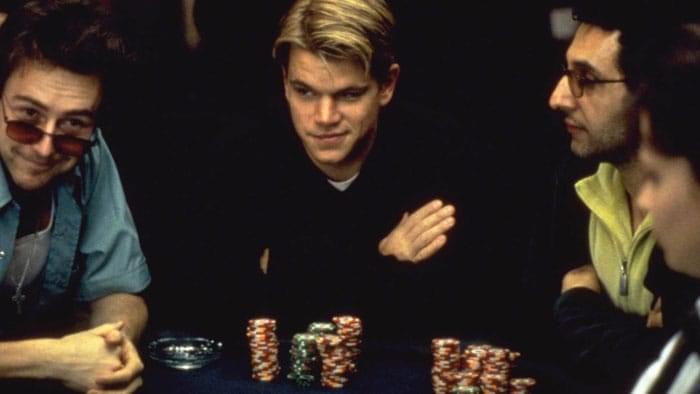 Rounders
We've mentioned comedy and we've mentioned drama, but few poker movies in history have walked perfectly between the two. Rounders, starring Matt Damon and Edward Norton, is undoubtedly one of those films.
Matt Damon plays Mike McDermott, a young poker player who is in debt and must avenge his devastating poker losses at the hands of Russian gangsters. Along the way, he renews his friendship with the newly released Lester Murphy (Ed Norton). The two teamed up to design a system to get their money back and reverse their financial mishaps.
As a comedy drama, Rounders captures our thoughts on compulsive gambling and the problems it can create in a fairly light-hearted way. This movie isn't a warning about how gambling can ruin your life, it's a story about how you can turn everything around with persistence and hard work.
It's a bit of a cliché story, because Matt Damon pretty much gambled with his life, college tuition, and relationships, and he still won in the end. But if you're looking for exciting gambling footage, hilarious banter, and two hours of pure entertainment, the Rounders are hard to beat.
However, with the poker craze of the early and mid-2000s, Rounders quickly re-emerged as one of the top poker movies of the era, gaining a cult following that remains to this day.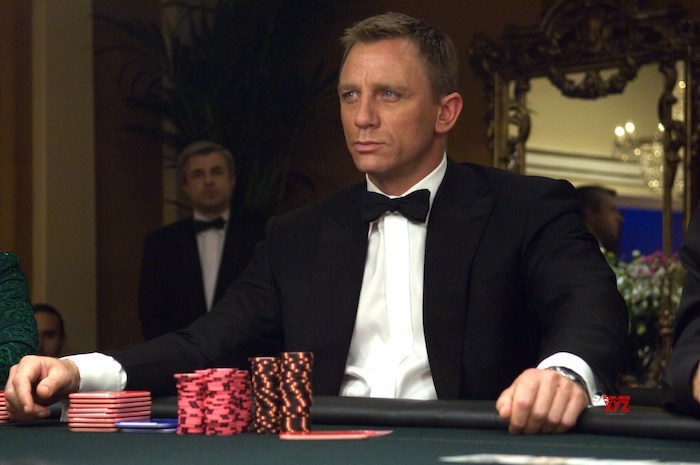 Casino Royale
James Bond, the most efficient and charming agent of the British Secret Service, is no stranger to casino games. But his efforts to defeat the terrorist financier at Casino Royale earned him a special recommendation and a spot on our list.
Along with Mads Mikkelsen as on-screen arch-nemesis Le Chiffre, Daniel Craig delivers the great casino scenes as well as action-packed fight scenes for the film Brings recognizable James Bond charm.
Casino Royale happened early in 007's career as he was still getting his license to kill. Bond has a secret mission to bankrupt Le Chiffre, an Albanian private banker who supports terrorists around the world. But during his assignment, a young and rather inexperienced Bond fell in love with Vesper Lind, a finance clerk who gave him the money he needed to play poker.
As the first film to feature Daniel Craig as James Bond, Casino Royale kicks off a storyline from the 2008 film Quantum of Solace. The image remains one of the coolest and most talked-about James Bond films in the entire 007 franchise. It offers many memorable scenes in a relatively long runtime of nearly two and a half hours. Most notable, however, was the final poker showdown between James Bond and Le Chiffre.