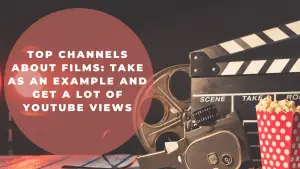 What are the decent examples to take experience from and develop your unique channel on YouTube? This question is disturbing many young bloggers who like watching films and who like making reviews and speaking about their favorite movies, actors, Hollywood life, and other things. This industry on YouTube is very popular and it is hard to squeeze in with something new and original but there are always chances for the ones who seek.
Initially, the question emerges where to get more YouTube views and the fastest and effective way to do so is to buy them. Users occasionally depend on YouTube automation tools to get rapid growth. But even if you purchase some YouTube stats it doesn't mean that you will gain success automatically. Everyone who has achieved somewhat good results on this platform had to put in much effort to become what they are now and maybe some of them did buy stats, especially at the start of their work, but nowadays they gain more views and more likes only with their personality and other points of their strategy.
So what are you so let's look through the most popular channels that speak about the movie industry to see what experience a newcomer can take from the skilled bloggers?
Nostalgia Critic
This one is probably of the oldest influencers in this niche. Nostalgia critic is very widely known for his critics and movie reviews, movie comparisons, and the overview of the industry in general.
Chris Stuckmann
This man is also a movie critic, one of the best in his industry. His content is entertaining and interesting to many viewers. He has more than 500 thousand subscribers on his channel and he encircles not only films but also anime and animated movies. These are probably the most unbiased reviews on any picture that comes out on Sundays he releases a cycle called Hilariosity where he also makes reviews but in his unique manner. Another entertaining thing to watch is his series "retro rewind". Well, if this guy likes a movie, then everybody will like it.
Every Frame Painting
This profile opens to the viewers the underneath of filmmaking and discovers various aspects that are utilized in this niche.
Every frame painting can assist you to understand how props are manipulated, what is CGI, and how it is working in the filmmaking industry. You will see more about the chronology of the niche and find interesting insights about your favorite movies.
Your Movie Sucks
If you want a positive vibe, to have fun and relax this is a channel you need to watch. This channel on YouTube covers different releases of films and the value of this profile is hilarious inspections of the worst movies that were possibly ever made and they get a lot of views on YouTube. A thorough and particular description of why this movie sucks is why you should subscribe to this profile.
Cinema Sins
Cinema sins is one of the most prominent channels in the business of movie making on YouTube. its prominent topic is collecting the imperfections of different titles that are released. The whole movie review is taking around 15 minutes for each video and the authors of this channel explain to you why and where the filmmakers were wrong or where they made a mistake. Technical imperfections are also shown there. For sure, after you have discovered this channel for yourself you won't be able to watch a single movie without detecting small flaws and big flaws that happen, unfortunately, even to the best movies like Jurassic Park.
Jeremy Johns
Jeremy is another movie critic who is using YouTube as his main platform. He puts together movie reviews in a standup manner and he likes creating amusing and funny videos he also analyzes upcoming trailers and shares his opinion on the movie enterprise in general. By now his channel has gathered more than 1 million subscribers and he can be considered one of the most prominent influencers of the niche on YouTube, along with Nostalgia Critic.
Screen Junkies
This channel provides a unique form of fun for this industry and because of that they get a lot of plays on YT. Their weekly show, called "movie fights", is sort of a quiz show where different guests from the filmmaking industry and famous Youtubers are competing with their knowledge about films. Long-formed videos are full of entertainment and more than 5 million users are glued to their screens each week.
Collider
A news channel for film lovers. They are going live on YouTube from Monday to Friday to wrap the recent news that happened in the big filmmaking industry and what's new in the box office. On Mondays, the authors also review the events over the weekend. Additionally, they interview different guests, speak and analyze what is the buzz in the media.
CineFix
This one is made for all people who like lists. More than 1 million users are happy to watch their reviews and top ten videos. This channel also provides videos that uncover different interesting facts about favorite movies of billions of views. And they also produce much entertainment and fun for their subscribers with various content categories on the channel.
Mr Sunday Movies
Fine channel on YouTube to catch up on what you have missed in the film industry. Each video that is released on this channel is thoroughly surveyed and only the important things are highlighted. This channel also provides detailed examination of trailers and recently disclosed movies to discourage you from watching. You will probably enjoy it because this is both delightful and very insightful information together. So, the conclusion here is – definitely worth your time to watch.
Watch Mojo
This channel has incredible value for top 10's and lists. their content is covering many topics, not only movies, but their prominent theme is still filmmaking. On this channel, there are various lists and top 10 on what, for example, would be the most terrible demise in movies, or what is the biggest insult that was filmed. So whatever you wanted to know, whatever you wished to compare, will stay on Watch Mojo. The light tone of their videos has already attracted more than 10 million subscribers, hence, their video-making skills and topic wrapping are definitely to take experience from.
Black Nerd Comedy
This is a special channel on YouTube that specializes in reviews for many movies released and upcoming, and the main specialty of this profile is that everything that happened there is exposed from the point of view of people of color and with specific humor. Well, this is probably obvious from the name. Don't worry, this channel provides good humor and entertainment for many categories of viewers and it is not racist or insulting at any point.
Comic Book Girl 19
This channel on YouTube is unique and special because Comic Book Girl is probably the prominent female movie critic on this platform with a lot of views on a channel . She makes thorough and analytic reviews on YouTube for as retro as for modern movies and she has a special approach and original charisma that allows her to be one of the popular female influencers on YouTube in general. She also has a section in her content for news or discussions with guests.
Lessons From The Screenplay
This channel that is run by Michael Tucker and his team is offering to users insightful analysis and review on well-written movies. Sometimes they invite guests who uncover facts related to the industry. The topic of this channel is explained in its name. Each video is offering a lesson for the viewers that applies to different movies and their screenplay. Clear narration and distinct graphics make it easy to understand, so while you watch, you learn.
Lindsay Ellis
Another female entrepreneur who is covering the topic of movies on YouTube. She has an academic approach for her videos explaining the social, cultural, and historical context of enormous blockbuster movies or indie hipster films. Lindsay makes reviews and analytical videos that educate and entertain her audience.
As you can see many bloggers embrace the niche of the filmmaking industry on YouTube. Some channels offer the view on movies from different angles and which provide various types of content that is related to this industry. However, there is always a place for someone with original unique charisma and a new personal approach. So as we can see from the list above, that is what makes success for someone who wants to enter YouTube as a blogger.