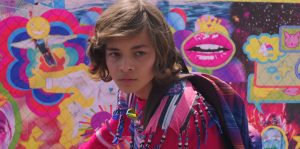 NEW TO TUBI.TV! Dana Ziyasheva's science-fiction feature, Greatland, is an odd film. It's one of those indie features that is easy to misunderstand, one that has to be chewed on to figure out. Think of it as Homer's The Odyssey, but set in a colorful yet oh-so-dystopian future, where the extremes of our current cultural climate are pushed the furthest extremes.
The story follows a young man, Ulysses (Arman Darbo), who awakens on the day of his transition into adulthood (aka puberty…shhh!). In the world of Greatland, the obsession with diversity and acceptance has led society to outlaw sex and biological childbirth. Children are birthed in laboratories, live in small container-like pods, and raised by Mother — an AI app installed on wristbands. There are no gender, parents, sex, or books. This is fine because all anyone needs is Mother to guide them in life. It's also important not to question Mother.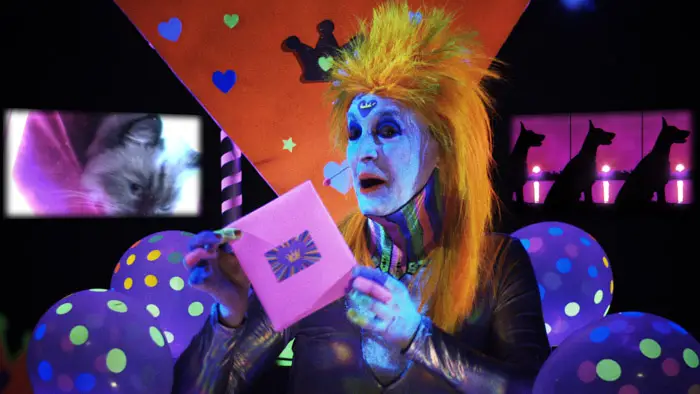 "…Ulysses has fallen in love with a young teen known as Ugly Duck."
This world is crazy. Ulysses' half-brother was given a son to raise. His wife, a tree, aids him best it can. Yes, a tree, because there are no species. Ulysses, in turn, was given a rabbit. An election between dogs and cats with the balance of power at stake is well underway. The cats and their felinist followers are determined to win against the dogs and their Doberman leader.
Also, there's a virus that plagues the land, which causes "death"— a concept foreign to the citizens of Greatland. The people are asked to donate their earnings to find a cure. All the while, Ulysses has fallen in love with a young teen known as Ugly Duck (Chloe Ray Warmoth). Ugly Duck is an outcast because she was born naturally. As a result, her biological father was made invisible and mute, and Ugly Duck was named…well, Ugly Duck.
Does any part of this make sense? Writer/director Dana Ziyasheva has something profound to say about the extreme divisiveness in the world today, and that message serves as the underlying structure of Greatland. But those themes are buried deep in the story. In Greatland, individuals have been reduced to living entities, and everything that makes us different has been made illegal for the sake of diversity. As Ugly Duck begins to question her origins and the circumstances around her birth, she is sent to Repentance Island. Ulysses goes after her.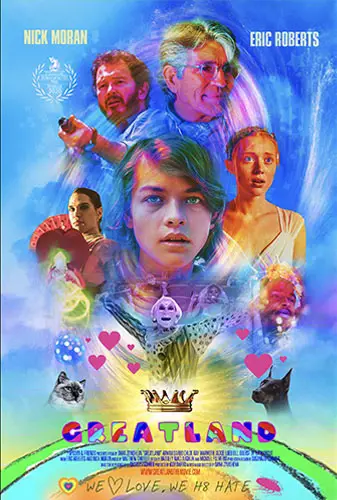 "…for better or worse, Dana Ziyasheva helmed a thinker."