In love with gambling? Aside from playing Gclub slot you can entertain yourself with some nice movies about gambling.
1. 21 (2008)
This movie is so packed with humor, thrill, and suspense that you might have trouble believing that the plot is based on four MIT students' true story. Kevin Spacey brilliantly plays an unorthodox math professor Micky Rosa, who teaches his students to count cards. They took several trips to Las Vegas and eventually won millions of dollars playing blackjack.
That's a story about how greed and power can get on the way of big dreams and great intentions. One of the students wanted to gamble to make enough money to attend Harvard Medical School, but money lust puts his plan in jeopardy. And find more at Canadian online casino reviews.
2. High Roller: The Ungar Story (2003)
Original name – Stewie, a biographical film about the famous professional poker figure. He was the first-ever player who won3 WSOP Main Event tournaments. However, he didn't achieve the same success in horse racing and lost most of his poker winnings. His life was a rollercoaster, and this movie shows every aspect of a gambler's life: from fascinating highs to extreme lows. Cocaine abuse, family drama, the childhood that formed the genius – you can find all of those in this iconic movie.
3. Rounders (1998)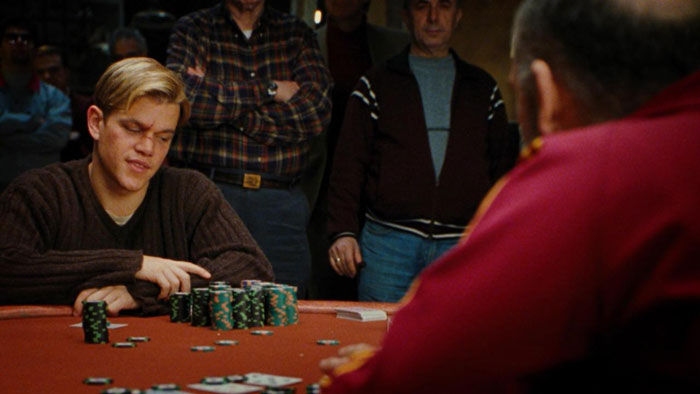 That is a classic story about a guy who put high stakes at gambling, hoping that it will pay his way through college. But poker is not always all it's cracked up to be. Mike McDermott (Matt Damon's character) has to beat Teddy "KGB" (John Malkovich) to get the desired money. This movie is a valuable piece since it demonstrates many good poker and bluffing techniques you can practice at video poker in one of the Asian casinos.
We also follow the flip side of a player's life, where his girlfriend pushes him to stay away from gambling. Star cast has done a great job. It gets very tense at times, and you won't be bored.
4. Casino Royale (2006)
Who doesn't enjoy good old-fashioned James Bond movie? This one has all the perks of classic action with the addition of gambling. It doesn't get better than that. Daniel Craig's character (007) has to beat Le Chiffre (Mads Mikkelsen) to stop him from financing terrorist activities. Mr. Bond demonstrates great bluffing techniques, as well as fantastic mind games. This movie remains one of the most-watched and loved ones among the Bondiana franchise. By the way, there are Casino Royal theme slots available in 918kiss casino.
5. Casino (1995)
Money, gambling, power, murder, glamour – if you are looking for a movie that has it all – this epic Scorsese's drama is for you. It tells a story about two-faced Las Vegas life. On the one hand, you have glamourous shiny casino sites, which never run low on champagne, beautiful women, and ecstatic winners. On the other hand, you have mobsters who run the city with brutality and viciousness. What's interesting is that the main characters are based on real people. For instance, Ace, played by Robert DeNiro, is inspired by the life of Frank Rosenthal, who used to run multiple casinos through the 70s. According to the Web Casino Star which is fully dedicated to online casino industry, this movie has won great critics' acclaim and remains one of the greatest casino movies of all time.