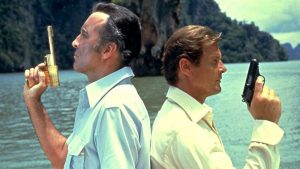 Great Bond villains are what separates the good films in the franchise from the fantastic. Larger than life plans to start World War III, to irradiate the US gold reserve, or to start a war between the UK and China in the name of better headlines, are all dismantled in the nick of time by 007 with the help of inventive gadgets, beautiful women, and resourceful allies. 
When everything comes to a head in a film's climax, the best moments come when Bond dispatches his current nemesis with dramatic flair and a snappy quip. 
With the new No Time To Die trailer released recently, what will Bond's next villain showdown be like? The film is set to feature Bond's nemesis Blofeld, played by Christoph Waltz, as well as a new adversary called Saffin played by Rami Malek. While we wait until then, here are just three of the best Bond villain showdowns we have seen on screen so far:
3. Bond & Le Chiffre's poker game – Casino Royale (2006)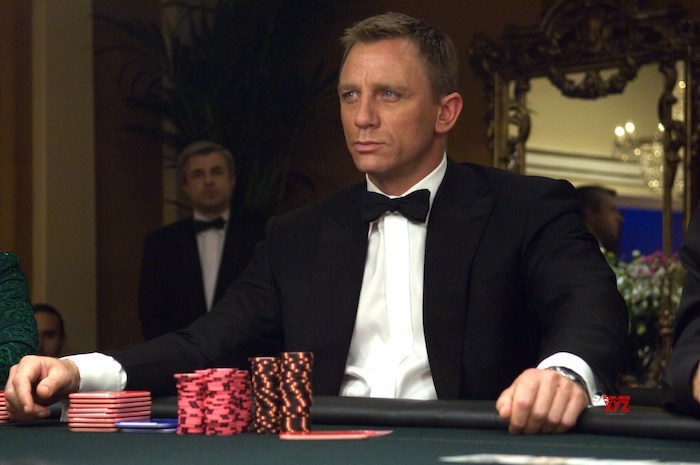 When James Bond isn't fighting bad guys or seducing the ladies, he's often found sipping a martini at a casino in his spare time. The MI6 agent is a masterful poker player and in Casino Royale he joins a high-stakes game of Texas Hold'em against his enemy Le Chiffre in Montenegro.
While many of us might visit an online casino like LeoVegas to play games purely for entertainment, the stakes are often set a little higher when Bond is involved, who has a rich history of playing and winning at casinos the world over. For example, the poker tournament he enters in Casino Royale has a $10 million entry fee alone!
In Casino Royale, Bond has a bit of bad luck throughout the game and also, since Bond villains have never played fair, Le Chiffre poisons him and he is forced to retreat to his car and administer an antidote. The entire poker game is fueled with tension as Bond tries to call out Le Chiffre's bluff. 
At the end of the game, with a whopping $115m at stake, Bond finally outsmarts his opponent, and benefits from some incredible luck, with a straight flush.
2. Bond & Alec Trevelyan's fight – Goldeneye (1995)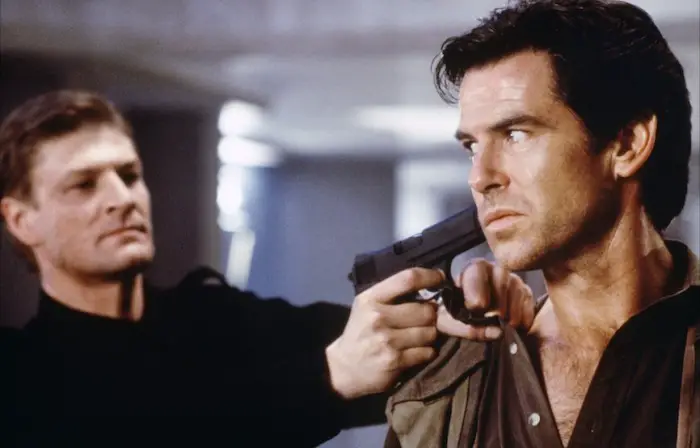 Sean Bean has had a bit of bad luck when it comes to his characters being killed off. Game Of Thrones and the Lord Of The Rings are just some memorable moments where his character has perished. One of the most notable Sean Bean character deaths has to be in GoldenEye. 
Formerly known as 006, Alec Trevelyan was the original answer to the question "what happens when a 00-agent goes rogue?". This villain's plan involved taking control of the GoldenEye weapon satellite and pointing it at London in an act of revenge. When the two agents finally face-off in their climactic battle, they trade blows until they end up struggling for dominance on a narrow platform suspended hundreds of feet in the air. 
Bond is seemingly at his enemy's mercy, but a swift kick sends Trevelyan sailing over the edge. 007 lunges forward and saves his adversary from falling and it seems like their shared history might inspire a moment of mercy. 
Trevelyan asks "For England, James?" and Bond replies "No, for me." before letting his enemy fall to his death, showing just how personal this showdown was.
1. Bond is stalked by Scaramanga – The Man With The Golden Gun (1974)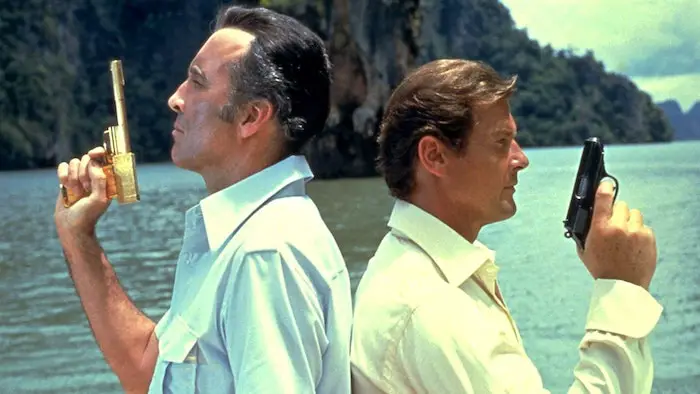 Although Blofeld is often thought of as one of the greatest Bond villains of all time, there are other fantastic characters who need honourable mentions too. 
Many villains that Bond has come up against have devious plans of revenge and sometimes even world domination. Played by the late Christopher Lee, Francisco Scaramanga aka 'the man with the golden gun' is another iconic 007 opponent. 
The Man With The Golden Gun might not be everyone's favourite Bond film thanks to some of its comedic undertones, but the final confrontation between Roger Moore's James Bond and Scaramanga is truly awesome. 
Scaramanga owns a private island thanks to his staggeringly successful career as a hitman. Scaramanga's trademark move is using a golden gun that can be broken down and disguised as a pen and a lighter to shoot his victims with a single bullet. He even gloats to 007 "I only need one". Bond faces Scaramanga on the hitman's island inside a labyrinth seemingly built to confuse and disorient 007. Bond navigates his way around animatronics and mirrors trying to catch his elusive prey. 
In the end, Scaramanga's cleverness is his undoing as Bond disguises himself as a mannequin and hides in plain sight to shoot and kill Scaramanga. The scene is fantastically shot and even the audience is left unaware of 007's plan until the execution.