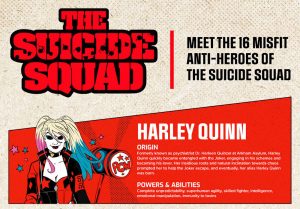 Marvel has dominated the superhero box office for quite some time, but DC Comics is hoping to change that with their highly anticipated film, 'The Suicide Squad.' The part sequel, part reboot film features a team of obscure supervillains who go on deadly missions in hopes of decreasing their incarceration sentence. These expendable criminals make up the black ops team of Task Force X, otherwise known as the Suicide Squad. But we suggest not getting too attached to them. These missions are considered "suicide missions" after all….
While the majority of Task Force X are new characters, some familiar faces are making a return. Fan-favorite Margot Robbie is reprising her role as Harley Quinn, along with three of her co-stars from the original 2016 Suicide Squad (Captain Boomerang, Rick Flag and agent Amanda Waller).
The new strike team introduces some unforgettable and dangerous characters including: a violent extremist with what looks to be a toilet seat as a helmet; a meta-human who can grow weaponized polka-dots from his body; and a humanoid-weasel.
There are a ton of fresh faces in 'The Suicide Squad', many of which are unlikely to complete their mission given the film's ominous title. To get you up to speed on the new members of Task Force X, we've provided a quick explanation of each supervillain's origin and powers.