Poker is one of the most popular games that is played at casinos around the world. Poker is known for being a sport that can be used for socializing as well as winning a lot of cash. While some people prefer to play poker online, others like to play it with a group of friends on a Friday night. Poker tournaments can offer very high-stakes and some of the professionals compete in tournaments to win millions every single year. Some might say that poker has come back with a bang in recent years and many people are enjoying what this game has to offer them.
Due to the popularity of poker, many filmmakers have decided to focus on this game for their blockbusters. Here, we thought we'd look at some of the best poker movies ever. Make sure to keep reading to find out if your favorite movie made our list.
Rounders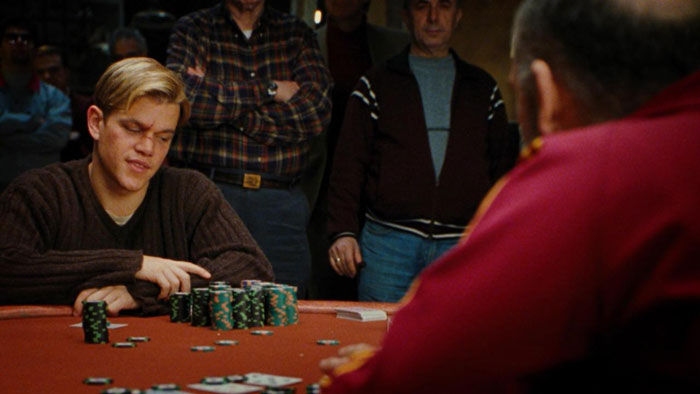 For fans of John Malkovich, Rounders might just be one of the best poker movies ever. This movie was directed in 1998 by John Dahl and it also stars Matt Damon, Edward Norton and Gretchen Mol. This movie follows a young gambler who is now reformed but needs to help a friend pay off some loan sharks. Rounders also focuses on the main character's struggles with law school and his relationship.
Deal
Deal was directed by Gil Cates Jr in 2008 and it has a great storyline. This movie stars Burt Reynolds and focuses on an ex-gambler who is teaching a college kid how to play poker. Poker fans might be able to pick up some great tips in this movie as there is a lot of teaching involved. Of course, poker players can also learn more about poker strategy by Planet 7 Oz online.
Maverick
The next movie on our list of the best poker movies ever is Maverick. This 1994 movie was directed by Richard Donner and stars Mel Gibson and Jodie Foster. Maverick is a bit of a comedy in comparison to the other movies on our list but it does focus around poker. The main character needs to find some money for a poker tournament and he has to undergo a serious of events to get this money. This is definitely one to watch.
Casino Royale
One of the best poker movies ever has to be Casino Royale which stars Daniel Craig. This James Bond movie was extremely popular when it was first released and it is still very popular to this date. Casino Royale follows James Bond on his first mission as he plays some high-stakes poker at the famous casino in Montenegro. While this movie might have more of a focus on the criminals that Bond is facing, there is a strong casino theme.
Shade
Poker lovers will enjoy this hustler movie that was directed by Damian Nieman back in 2003. Shade follows a group of hustlers who need to pursue a vengeful gangster and they use poker to do so. Hustler movies are extremely popular and they show a different side to gambling. Any online tips that you'll find about poker involve using your poker face so if you don't already have one it might be worth practising.
Lucky You
The next top poker movie of all time that you might enjoy watching is Lucky You. This movie stars Eric Bana and Drew Barrymore and was directed by Curtis Hanson back in 2007. This is one of the more recent movies on our list but it is a great one. In this movie, a poker player needs to win a tournament in Vegas but he finds it very difficult due to the personal problems that he has. This movie has a touch of romance to it and is definitely worth a watch.
All In: The Poker Movie
If you are a fan of documentaries then you will love All In: The Poker Movie. This documentary was directed by Douglas Tirola back in 2009. The great thing about this documentary is that it focuses on the increase in popularity of poker in recent years and this is something that poker fans will have noticed. Other games gained popularity over the years with poker being put on the back burner but now online poker has helped the game to take off again.
The Grand
Next on our list of the top poker movies of all time is The Grand which was released back in 2007. This movie is actually an improvisational comedy that focuses on poker. The actors in the movie are playing characters that are actually playing poker and the whole thing is really quite entertaining. This movie was directed by Zak Penn and stars the famous Woody Harrelson. Make sure to check this one out if you haven't already.
The Cincinnati Kid
The final poker movie to make our list is The Cincinnati Kid that was released way back in 1965. This movie was directed by Norman Jewison and stars Steve McQueen and Ann-Margret. In this movie, a poker player tries to prove himself despite only being up-and-coming. This player takes on one of the masters of the game and this proves for a very interesting storyline.
As you can see, there have been plenty of movies that were made with poker being the main focus of the story. Some movies are comedy-based while others take on an action kind of genre which can also work well for this kind of theme. The movies on our list are all greats, with some being more well-known than others.
If you are a poker fan and you haven't seen any of the movies that are currently on our list, make sure to find some time to watch them soon. You might just fall in love with the game all over again or get some tips for your next big poker tournament. We hope you enjoy these movies just as much as we did.