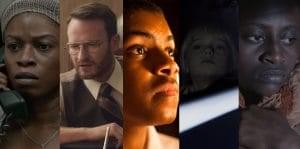 The Oscars are just around the corner. While the world wonders who will win Best Picture and who wore it best, I decided to spotlight a few of the compulsory categories that no one cares about. The academy hates these films so much they force the winners to keep their acceptance speeches down to probably 30-seconds or throw it up on the internet. This week, Film Threat presents the underappreciated category of Best Short Film – Live Action.
Selecting the best of the "Best Short Film" film is like comparing Apples and Oranges (ugh, I hate that cliché). Each film hits on a highly charged subject in society today. And if you had to select a winner it would be the one that presses your hot button. This year is no exception.
"Each film hits on a highly charged subject in society…"
Dekalb Elementary
The timing of current events may be a factor for academy voters for Dekalb Elementary. Los Angeles based writer/director Reed Van Dyk tells a story inspired by a 911 call placed during a school shooting incident in Atlanta, Georgia. Addressing the controversial subject of school shootings and gun control, lead Dekalb Elementary to a successful festival run in 2017 where it was awarded Special Jury Recognition for Acting for star Tarra Riggs at the South By Southwest Film Festival.
The Eleven O'Clock
The only comedy amongst the nominations, The Eleven O'Clock started as a stage play written by its stars from "down under" Josh Lawson and Damon Herriman. The setup is simply complex. A delusional patient of a psychiatrist believes he is the doctor and the two "doctors" attempt to treat one another during a session that spins out of control. For their effort, Lawson, Herriman and Karen Bryson won Best Short Fiction at the Australian Academy of Cinema and Television Arts Awards.
My Nephew Emmett
The one thing that will surprise you about Kevin Wilson, Jr.'s My Nephew Emmett is that it's a student film. I mean, young people are not supposed to produce professional quality films with a powerful and mature message. Right? The short tells an incredibly empathetic story about a man, who can't stop the potential tragic events that are about to fall upon his nephew in 60's racist south. Wilson masterfully captures the anxiety and tension of Emmett's uncle knowing his nephew's life is about to change for the worse. Film Threat Review
The Silent Child
The message of The Silent Child is clear: whether or not one has a disability, that person is and will always be NORMAL! Young child Libby is deaf. Her family ignores her because she has a defect and Libby ignores her family because she can't hear them. Joanne is Libby's new nanny, who specializes in working with the hearing impaired. She begins to teach and communicate with Libby through sign language against the wishes of Libby's mother, who insists she learns to read lips. Writer/star Rachel Shenton uses The Silent Child to make her case in the debate of sign language vs. lip reading. Film Threat Review
Watu Wote
While we debate one another over identity politics, on the other side of the Earth, people are murdered over it. Katja Bentrah's Watu Wote recounts the true story from 2015 about Al-Shabaab soldiers hunting for the lone Christian on a bus full of Muslim. Bentrah spotlights the bravery of men and women who put it all on the line protecting their neighbor. Film Threat Review
And the Winner Is…
Only having seen three of the five films, Film Threat gives the nod to My Nephew Emmett to win Best Short Film. While the knowledge of the director's young age and inexperience should have no impact in decided which story was told best, My Nephew Emmett boasts professional production values, high-quality performances, and storytelling that put you in the shoes of a man about to come face-to-face with tragedy.