The worlds of gambling and movie industry are pole apart but there are many movies based on gambling that are always thrilling to watch. It's obvious that when there is money on the table, even on the screen, it is adrenaline rising. The football betting scene from Focus is still one of our favorites when Will Smith gets ready to bet everything. Not all the time risk leads to reward it can also leads to danger sometimes. So in this post, we are going to list the films whose central focus is on games of chance, skill, and sometimes just blind luck. These take an in-depth, sometimes amusing, and always entertaining look at the world of gambling including the pitfalls, the wins, and the scams. Whether it's high stakes poker or a couple of grifters in for a score, these films give us a compelling glimpse at the world of wagering.
5. The Gambler (1974)
When the thrill of being a beloved college professor isn't enough, there's always the excitement of gambling to fall back on. But, when you're dealing with a gambling addiction that knows no limits, it can become downright life-threatening. Played by James Caan, this gambler seems to have it all, but it's never enough. The film about the dangers of addiction, the gambler makes you feel for a guy who will rip off his own mother. But as we eventually learn, it's not about the money it's about the stakes.
4. 21 (2008)
Being a math whiz comes in handy, particularly when it comes to counting cards in Vegas. Based on a true story but given the Hollywood treatment, the plot follows several MIT students who are too clever for their own good when they descend on Las Vegas as a crack team of expert card counters. Things begin to fall apart as the team fractures and casino security catches wind of their scheme. A study on how to beat the system this film might just inspire you to try (or not).
3. The Sting (1973)
The Great Depression was, well, depressing. It was also a time when elaborate cons seemed like a perfectly acceptable way to earn a living. Paul Newman and Robert Redford play a couple of grifters who set up an elaborate ploy to scheme a crime boss out of half a million bucks. As the story of the movie goes, the layers of this scam are revealed with the audience finally being let in on the very complicated con. Fun to watch and an Oscar darling, the sting is about playing to win.
2. Rounders (1998)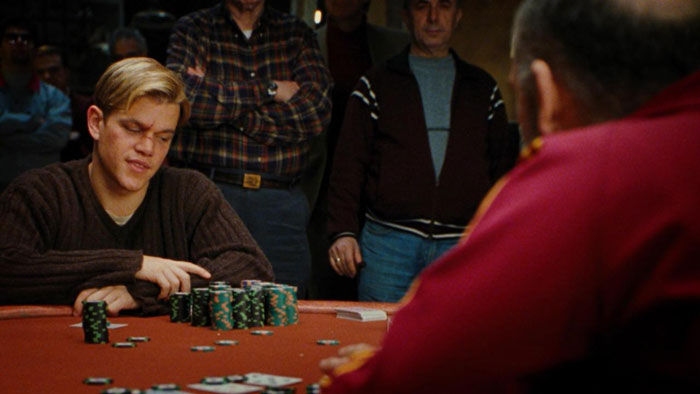 The story is about an exceptional poker player who manages to lose to a Russian mobster. Matt Damon plays a man who's lured back to the table when his shady friend, portrayed by Edward Norton, comes back into his life. The siren song of high-stakes poker is just that strong, strong enough to make a law student drop out of school, and a relationship, and leave town to go pro. A cult favorite beloved by poker aficionados, thanks to its energy and pressure, Rounders has been credited by some professional players for sparking their interest.
1. The Hustler (1961)
A precursor to 1986's The Color of Money, The Hustler sees Paul Newman originate his iconic role as Fast Eddie Felson, a talented small-time California pool hustler. After suffering a humiliating loss Felson embarks on a mission to redeem himself and to claim the pool shark throne. Along the way, he finds and loses love, has his thumbs broken and plays the most important games of his life.