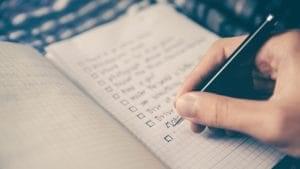 "What I really want to do is spend three years making a film that will be seen by a handful of people at a few festivals and then go on to make $453 on VOD," said nobody ever.
You only get one chance to release your film on VOD, so you want to make sure you don't mess it up. And the best way to not mess it up is to have a checklist for your VOD release campaign. Then make sure you follow it!
Dr. Atul Gawande is a surgeon and writer who has built a cottage industry around advocating for checklists. And for good reason. His checklists save lives. Lots of them. Over the years, he's written a number of popular books and articles on the topic, and professionals have successfully applied his ideas across a wide range of disciplines.
So why not have a checklist for your indie film? Sure, your found footage horror film isn't going to save any lives, but that doesn't mean you can't employ a cross-discipline tactic to give it the best chance of success in the marketplace. Which brings us to the VOD Release Campaign Checklist!
Here are 8 things you need to have in place for a successful release:
1. Platforms
Like the old knight exhorts Indy at the end of Indiana Jones and the Last Crusade, "Choose wisely." The same goes for where you put your film. Does it need to be available on Xbox? Google Play? Steam? BitTorrent Now? If you know your audience (or potential audience), you'll know where to put your film so they can find it. iTunes and Amazon are usually safe bets, but if you have a specific niche that you want to reach, you want to find a platform that aligns best with your audience demographics. Aggregators like Quiver, Distribber, and others help streamline this process and can place your film on a variety of non-curated platforms for a fee, so choose wisely.
2. Poster Image
This will be front and center on any streaming platform, so you want to make sure it stands out. Don't include laurels and make sure the title is legible. Mock-up how it will look on each platform on which it will be available, especially the mobile versions. Otherwise, people will just scroll past if they can't even read the title or the image isn't engaging.
3. Key Image 
This will be what displays when someone clicks on your poster image. You want this to tease your story without giving too much away. We talked about this in-depth in one of our earlier articles, so I'm not going to rehash it here.
4. Logline
This is key. Which is why we did a deep dive on how to do it here.
5. Trailer
If people click your poster image and are intrigued by your logline, the next thing they'll likely do is watch your trailer. So make it a good one. I recommend you keep it under 60 seconds for two reasons. First, most people will be watching your trailer on their phone, so you need to hold their attention. If you spend 20 seconds on production company logos and film festival laurels, you'll likely lose the majority of your audience. Jump right in and keep the pedal to the metal (even if it's a minor-key period drama). You need to sell the film and fast. Second, anything over 60 seconds won't run on Instagram, a platform that provides access to a giant swath of the coveted 18-44 demographic that you need to reach if you want to be successful.
6. Captions
Every major platform requires that your film has captions for Deaf and hearing impaired audiences. I would recommend that you don't do this yourself, but outsource it to a service like Rev. It will save you a lot of time and only costs $1/minute.
7. Subtitles
If you're film is going to be available in foreign territories, you'll need to include the appropriate subtitles. Subtitles cost more than closed captions, usually around $2-5/minute, depending on the language. That said, unless you have a great reason for adding French subtitles to your film, don't just go and add French subtitles to your film. For most films, foreign territory VOD receipts will not recoup the costs of the subtitling service, so make sure you've calculated a realistic ROI before proceeding.
8. Marketing Plan
We often joke that finishing your film is like completing the third lap of a four lap race. Most filmmakers think their work is done once their film is out the door and on the festival circuit, but, in reality, a new phase of work is just getting started. You WILL need some sort of marketing plan in order to break through the noise of the already overcrowded marketplace. If you can't afford a publicist or a marketing team, you can at least leverage your social media channels and email list to gain as much traction as possible. That said, I still strongly recommend that you allocate some amount of money to an actual digital ad spend to promote your film online. To demystify this process a bit, we've developed an online ad budget calculator that can help you estimate various outcomes based on variables such as ad spend, reach, conversion rate, and pricing.
And there's your checklist. It's not rocket science, but it does require strategic thinking and a little bit of money. You made a great movie, now get it out there so people can see it!
Smarthouse Creative is a marketing agency for independent filmmakers. Whether you're looking for an overall marketing strategy that marries advertising, social media, and publicity, or just a stand-alone digital ad, social media, or PR plan for your indie film, we can help.