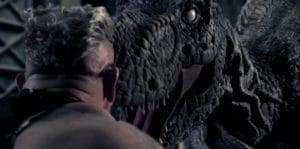 Over the last few decades, different mainstream entertainment mediums have increasingly merged, largely due to the advent of technological innovations. These include the rapid rise of high-speed internet access and mobile connectivity, which has led to a greater variety of ways in which we consume our entertainment.
There was a time when movies were inspired by literary works or comic books, although that has evolved with the widespread popularity of video games, as they increasingly become an inspiration behind cinematic productions. Likewise, videogames themselves have evolved, increasingly becoming cinematic experiences, with richer stories and visual environments that capture the imagination. 
Inevitably, this has led to an increased merging of the two industries, resulting in games inspiring movies and movies inspiring games. These are a few examples worthy of particular attention, albeit for contrasting and unique reasons.
Jurassic Park (1993)
Based on a book written by esteemed author Michael Crichton, when Jurassic Park was released in 1993, directed by Steven Spielberg and featuring an all-star cast, it was an instant hit at the box offices. This inspired Crichton to pen two more novels, which also became movies, when The Lost World: Jurassic Park (1997) and Jurassic Park III (2001) were released to complete the trilogy.
After those first three movies, by 2001 the franchise had generated more than $5 billion in worldwide revenues, making Jurassic Park one of the most successful and highest-grossing media franchises of all time. The latest Jurassic World trilogy has enjoyed success and the third installment will hit cinemas in 2022, while the entire franchise has also spawned a huge list of video games, inspired by the movies.
Despite being released by Microgaming in 2014, just over 20 years after the first movie, the Jurassic Park slot game has become phenomenally successful, undoubtedly aided by such strong brand recognition. The game itself is a staple addition at most of the sites which Casinos.co.za has reviewed in detail, amongst a hand-picked list of the best South African casino gaming websites. 
Wing Commander (1999)
These days we're more accustomed to video games inspiring movies, although back in 1999 when Wing Commander was released, the motivation for doing so remained relatively new. During the same decade, only Street Fighter (1994) and Mortal Combat (1995) had made the commercially successful switch from gaming consoles to the silver screen, although both were largely panned by movie critics.
Unfortunately for Wing Commander, it was both a critical and commercial failure and despite having some excellent source material to work with, the IMDB rating of just 4.3 from reviewers indicates how poorly it was received. Not even a strong ensemble cast could save this one from tanking at the box office. Fans of the original game series were far from happy, as they disliked how characters and elements of the game universe were changed, while newcomers were less than impressed by cheap effects and the cheesy, cliched story.
To be fair, the original video game franchise was an extremely tough act to follow, especially those later in the series like Wing Commander III: Heart of the Tiger (1994), Wing Commander IV: The Price of Freedom (1996), and Wing Commander: Prophecy (1997). Those three games actually featured full motion video sequences, boasting an excellent cast of actors including Mark Hamill, Malcolm McDowell, and John Rhys-Davies.
Jaws (1975)
Steven Spielberg seems to have a knack for producing cinematic masterpieces, which also enjoy great commercial success, making him one of the most venerated movie directors and producers of all time. When Jaws was released in 1975, it was the highest-grossing film of all-time until Star Wars hit cinemas in 1977, establishing a trend for the prototypical summer blockbuster. Interestingly and according to Smithsonian Magazine, both the book written by Peter Benchley and the Spielberg movie were inspired by real-life events.
While the creature effects may look a little dated these days, they were entirely practical and hand-crafted, compared to the CGI that dominates modern productions. Accompanied by an ominous theme crafted by John Williams, which teased the impending appearance of the terrifying great white shark, this was a movie which had audiences on the edge of their seats. Surprisingly, for such a cinema classic, it took just over 30 years for Jaws to get the video game treatment.
Many movies have inspired video game releases, yet none have turned the tables quite like Jaws Unleashed, which came out on consoles and the PC in 2006. While the action-adventure story features marine biologist Michael Brody, son of police chief Martin Brody in the original movie, the twist in this game is that players take on the role of the great white shark, rather than humans. Eating swimmers and sinking boats is all part of the gory fun, making this a unique playing experience from the shark's perspective.
Unison of Gaming and Cinema
Generally speaking, when video games are made into movies the critical responses are typically quite negative, often garnering negative reviews. Nevertheless, that hasn't stopped either industry seeking to make more video game inspired movies, and vice-versa. Indeed, Sony Pictures has a whole host of game to movie productions planned over the next few years, including silver screen appearances for their Uncharted and Metal Gear Solid franchises.
Despite Monster Hunter being an economic flop, mostly due to the time of release in 2020, it seems that Sony are keen to push ahead with more movies inspired by video games, following the commercial success they enjoyed with the Resident Evil franchise. Other studios have taken keen interest, which means we'll get more gaming movies before too long, including Space Invaders via Warner Bros. Pictures.