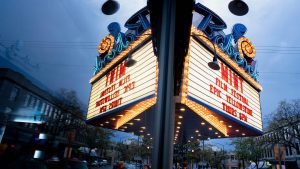 Festival Executive Director Brian Murnion divided his time between programming and fundraising. And as a veteran of more than one filmmakers' lounge, I can say that MINT boasted some of the best hospitality I've experienced. The increased support has helped MINT infuse the whole town with film culture. Billings' community, businesses, film-goers and film aficionados all showed up to sink into five days of films in the core of downtown Billings where an array of topics, film styles and people were discussed and celebrated, letting Billings really punch above its weight compared to other cities' cinematic arts programs. For year two and proving how arts brings a community together, MINT provided a slate of films from politically spiked subject matters, indigenous stories, dramas and comedies as well as celebrating the beauty of Montana only steps beyond its historic Babcock Theatre.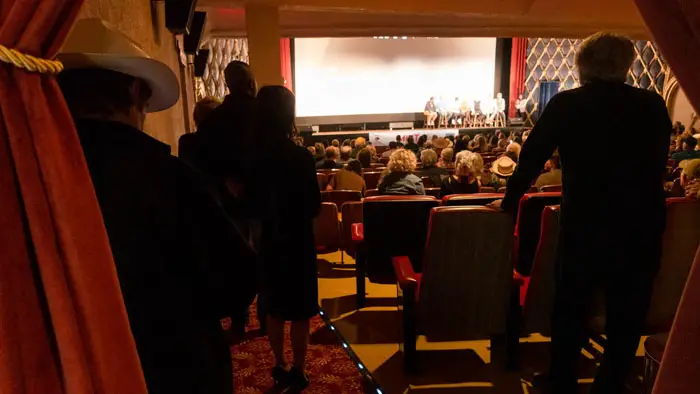 "The films we programmed represent filmmakers stepping out into new territory, exploring stories and lending voices to those who can not speak for themselves and so much more," said MINT Executive Director Brian Murnion. "These films made us cry, laugh, take action and cheer—this is the power of cinema."
The first full day of the festival featured not one, but two punk documentaries including BOOM! A Film About the Sonics, directed by Montana's Jordan Albertson, which chronicled the rise, demise and resurrection of Seattle punk pioneers The Sonics. Albertson took home the MINT Spirit Award for his efforts, and coincidentally, the film also won the Best Film Prize at FilmFest Bremen in Germany on the same day.
"It really meant a lot just to be able to screen my film in Montana—Montana's my home, this is where I edited and finished the film, and to get this award means the world to me," Albertsen said. "Thank you so much Montana International Film Festival—hope we meet again!"
The second was Kirk LeClaire's documentary …so good I can't take it, which surveyed the wildly popular and prolific punk music scene in Montana and the Pacific Northwest. Who knew filmmaker John Dahl was in a punk band called The Pugs and that there were an astronomical amount of punk bands in Montana?
Ending the second day of MINT, the festival's after-party not only had the Tito's Vodka flowing it was also a reunion for The Pugs held in what the Stapleton Gallery owners affectionately call "The Kill Room," a paint-spattered raw space with plastic sheeting for walls. It was a superb performance by The Pugs with John Dahl and Rick LeClaire performing their own tunes as well as classics including Elvis Costello's Pump It Up.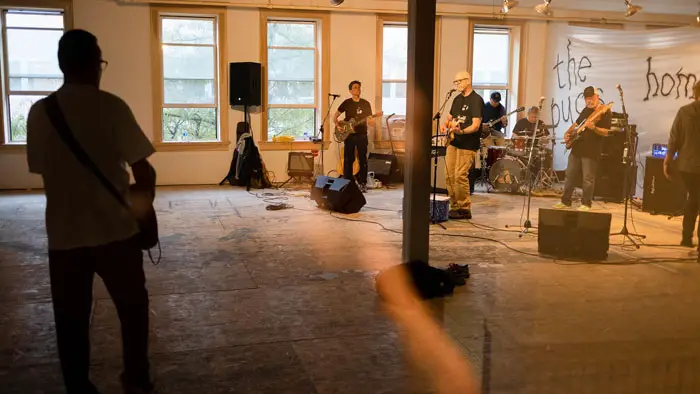 Throughout the weekend amidst the downpours, MINT presented industry advice on craft and business providing several panels at the Stapleton Gallery including a Women In Film Panel with Diane Cairns, who worked for ICM and served as Senior Vice President of Production for Universal Pictures. Cairns, who announced her involvement with a new and dynamic project to change the movie experience—TBA, was joined by celebrated screenwriter Virginia Spragg. Montana's Film Commissioner, Allison Whitmer, severed as moderator. Whitmer also moderated an Indigenous Film Panel featuring Michael Spears, who starred in Dances with Wolves, Jane Lind, Reno Charette and Eddie Spears, a younger brother to Michael. They all shared their experience and knowledge on how indigenous filmmakers, actors and artists have broken some boundaries, but there's still a long way to go. MINT's Indigenous Voices short films block provided insight into the stories and productions of indigenous life. An aside to MINT, award-wining and Crow/Northern Cheyenne artist Ben Pease of Billings, whose work is at the Stapleton Gallery, also created this year's MINT film poster image based on his painting Painting Of You. Filming Us. Filming You, which was inspired by the 1926 cornerstone film, Rex The Devil Horse.
MINT hosted a special "producers" breakfast, which included Dahl and Academy Awardâ-winner Brigitte Berman, who won Best Feature Documentary in 1985 for Artie Shaw: Time is All You've Got on the legendary bandleader. Adding to her collection, Berman won MINT's Best Documentary Feature for her new film Hugh Hefner's After Dark: Speaking Out in America.
"You have a real responsibility as a filmmaker," said Berman. "My late husband [Victor Solnicki, who produced the film] saw the real value of these shows but also the political edge that was on these shows and how important that was. The politics and social issues in the film became major. I try to go deep when I make films and what matters most to me are films that have greater meaning. Preserving history is very important to me."