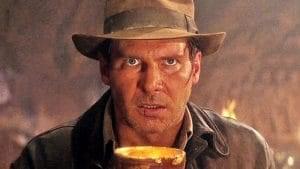 What started out as a mere idea from the fantastic brain of George Lucas – the mind behind another cult classic, Star Wars – has since become a mainstay of popular culture. With the idea to create a James Bond-inspired spaghetti-western type archeologist, Lucas paired up with Steven Spielberg, and the rest is history.

"Indiana Jones" (CC BY-SA 2.0) by Eva Rinaldi Celebrity Photographer
From the beginning to the height of fame
Initially set out to be named Indiana Smith, the initial idea for the character back in 1973 could have led the franchise in a whole new direction. Luckily, by the time Raiders of the Lost Ark was released in 1981, Lucas had taken Spielberg's advice and changed the character's name to Indiana Jones, known by his friends as Indy. The prequel, The Temple of Doom was released three years later, followed by a sequel, The Last Crusade, in 1989.
Over time, Indiana Jones infused itself into popular culture and inspired a wide range of media, such as TV shows, short parody films, comic books, video games, novels, and film franchises. Online slot games from Megaways casino like Temple Tumble, Gonzos Quest, and 5 Lions, have gameplay with similar themes to the expeditions in The Temple of Doom and Raiders of the Lost Ark, encouraging players to uncover and collect hidden artifacts from ancient kingdoms.
Almost two decades after The Last Crusade, it was revealed that this was, in fact, not Indy's last crusade. Instead, the franchise took a risk with The Kingdom of the Crystal Skull (2008). The twist – aliens – was incredibly divisive, and fostered mixed opinions. On one hand, Indiana Jones purists were confused as to why the archaeologist would stray away from his wheelhouse of finding religious artifacts – especially as he does it so well. On the other hand, critics like Inverse thought felt it was the push it needed to bring it up-to-date and redefine the franchise's genre entirely.
What's next for Indiana Jones?
The newest – and final – installment of the film franchise is Indiana Jones and the Dial of Destiny (2023), starring, of course, Harrison Ford, as well as Phoebe Waller-Bridge, Antonio Banderas, John Rhys-Davies, Toby Jones, Boyd Holbrook, Ethann Isidore, and Mads Mikkelson, directed by James Mangold, and featuring music by the epic John Williams.
This fifth film has always been planned as the ending to the franchise, ever since George Lucas negotiated four sequels to Raiders of the Lost Ark back in the 70s – and, as the most expensive film out of them all, no expense has been spared on giving Indy a fitting send off.
Dial of Destiny was filmed throughout Morocco, Italy, and the United Kingdom, seeming to find locations that were both surprising and previously under-utilized (but no less fitting) backdrops to such a cult franchise. Particularly, Indiana Jones fans in Newcastle-Upon-Tyne were whipped into a frenzy after spotting Harrison Ford walking along the world-famous Quayside – nearby Bamburgh Castle in Northumberland can be spotted in the trailer.
Since premiering, Dial of Destiny has received mixed reviews. That said, it reports to give a final ending for the character that has been at the center of popular culture for over four decades.