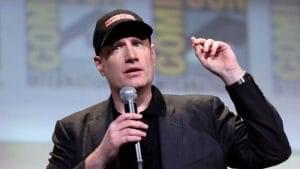 A lot of people are involved in making a movie, but some get more attention than others. We know the names of the biggest directors and actors in Hollywood, but we often can't name some of the other people behind a film. This is especially true with producers, who do a lot to get a movie made, but often don't have the same level of name recognition.
However, this isn't always the case, as many big directors are also producers. Below are some of the biggest producers in Hollywood – some you've probably heard of because of their other work, and a few you likely haven't.
Ryan Kavanaugh
Let's start with one producer you probably haven't heard of but should have. Every producer has their own method for choosing which films they want to help get made. Some choose passion projects, others go by who else is working on them. One man takes a different approach – an approach he equates with "moneyball" in baseball (although he ironically did not finance the movie "Moneyball"). Ryan Kavanaugh has financedand/or produced morethan 200 films, generating more than $17 billion in revenue and earning him the nickname "Billion Dollar Producer".
In 2011 he was named "Showman of the Year" by Variety, and even made the Fortune 40 under 40 that year as well. Although still at a relatively young age, Kavanaugh ranks as the 25th highest grossing producer in box office of all time. He started what is now called critical content and made over 40 television series as well as started what is now known as independent sports group and under his tenure built it to be the second largest sports agency in the United States.
Steven Spielberg
If you haven't heard of Steven Spielberg, you probably haven't seen a movie in the past few decades. He is responsibly for not only directing, but producing, some of our most iconic films. His highest grossing is "E.T.", which topped over $434 million when it came out. He also had a hand in "Jaws", "Shindler's List", "Indiana Jones", and "Lincoln", just to name a few. Look for an adaption of "West Side Story" to hit soon as well.
Peter Jackson
Peter Jackson became one of the most successful Hollywood producers with the films he directed based on the Lord of the Rings books. He then went on to also produce the sequel "Hobbit" films, which cemented his status as one of the top producers even further. Beyond this book series, he also produced such films as "King Kong" and "The Lovely Bones". It's estimated that he has grossed over $2.1 billion from all of his films.
Robert Zemeckis
Robert Zemeckis is another director/producer who is responsible for some of our more classic films. We have him to thank for "Forrest Gump" (his highest grossing movie), the "Back to the Future" trilogy, and "Castaway" among many others. He only has 18 movies to his name, but considering they average over $100 million, that's not too bad.
James Cameron
The last producer you likely heard of is James Cameron. He became a household name after his ambitious "Titanic" movie, which earned 11 Academy Awards. He then went on to top himself, producing the "Avatar" movie, which became the highest grossing movie of all time when it was released. There are more "Avatar" movies on the way, so if you don't know James Cameron yet, you'll start hearing even more about him soon.
Kathleen Kennedy
Now for a few names you might not have heard of. Unlike the names above, there are some people who only help to produce a film, rather than writing or directing it as well. One person behind some of the largest movies in recent history is Kathleen Kennedy. Not only was she involved with "E.T" and "Jurassic Park" back in the day, but she's now busy producing all of the new "Star Wars" movies. These movies are such big box offices successes that they have helped to propel her to the top of the most successful producers list.
Kevin Feige
Finally, we have Kevin Feige. This is the producer behind practically every super-hero movie we have seen over the past decade or so. If you stop and think about it, you'll realize how many movies this is. He is behind "The Avengers", "Black Panther", "Iron Man", "Spider-Man", and many more. Each of these movies is a gigantic success at the box office, making Feige the most successful Hollywood producer active today. With more comic book superhero movies in the works, he will likely retain his spot at the top of the list for a long time to come.
Look for the Producers
While some of the other members in a film might get more recognition – like the writers, directors and actors/actresses – the producers are just as important to the film. There's a reason that the top grossing producers keep making good movies year after year – they are good at their jobs. If you want to tell if a movie is going to be a success, you should look at who is producing it. Start noticing the producers when you go to see a film, and you'll likely see the same names cropping up over and over again – and then it won't be long until all of the names are familiar to you.