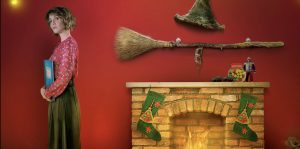 Holidays have arrived, bringing with them twinkling eyes, glowing cheeks, and the risk of random death to loved ones by getting near to others due to the plague du jour. Time to stock up on some festive Go-Away videos, the ones you put on the TV when you have accidentally held a holiday get-together, and you are trying to make people get the hell out of your house. I used to put these types of movies and shows to use when it was getting late, but folks were too ####ed-up to want to try to find the door. Start a few minutes of a Go-Away video, and they will be ready to start digging an escape tunnel. Nowadays, we need Go-Away videos because other people in the room can breathe on you, which just doesn't work this Covid Christmas. If someone shows up at your home, these five handy Holiday Go-Aways will get them to march right back out the door. Film Threat does not take responsibility for what happens if you try to watch these videos yourself out of some strange attraction to cinematic shaggy dog weirdie material. Maybe the Go-Aways will make you run out of your own house. Maybe you will end up in Toledo, which has happened before after reading something in Film Threat. Or if you are already in Toledo, maybe watching all of these flicks will be your ticket out.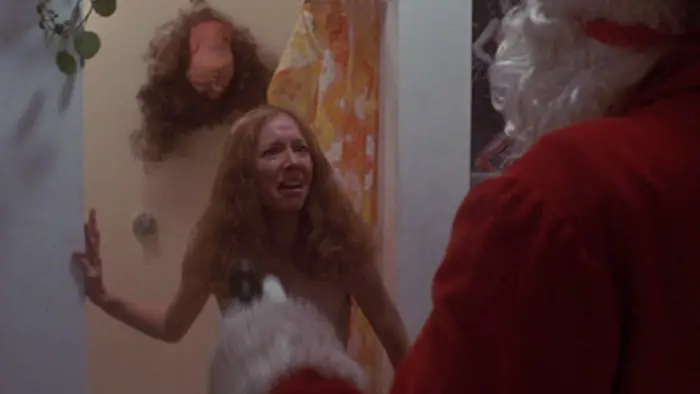 To All a Good Night
(1980)
This "gem" is seldom seen due to an unwatchable dim VHS transfer in the 80s. We have a killer Santa movie that can now be streamed in high def with everything clearly in view—for better or for worse. Historically important as it was the first killer dressed as Santa movie, beating out You'd Better Watch Out (a.k.a. Terror in Toyland, Christmas Evil) by many months. It was also the first of the long, long line of holiday-themed clones of John Carpenter's Halloween, where several paraphrase remakes set at different holidays created what is known as the slasher genre. This movie, made for $75,000 and shot in 10 days in November 1979, beat Friday the 13th to the theaters by a good three months and may have helped inspire that franchise, as the Friday the 13th director, Sean Cunningham, is said to have visited To All a Good Night's set, as it was being directed by David Hess, the star of producer Cunningham's exploitation masterpiece Last House on the Left. It almost makes it sound like the holiday horror movie you haven't seen and need to.
Not so fast. This was David Hess's first and only directorial effort during a long career of playing side thugs with his leading roles as the villains in rape epics like Ruggero Deodato's House on the Edge of the Park. The actor's direction results in many characters walking and talking a lot like David Hess, which, at best, comes off like a polyester-wearing flooring salesman and, at worst, comes off as 70s adult film level performances. It is telling that the most natural acting job in the movie is a cameo by Deep Throat's Harry Reems. Everyone seems to exist on a level of mundane goofiness where slaughtering them is not unwelcome, sort of like watching the characters in an Andy Capp comic strip die horribly. I will have folks fleeing well before the twist ending, which seems way more clever than the picture's tone. Streaming on Amazon Prime and Tubi.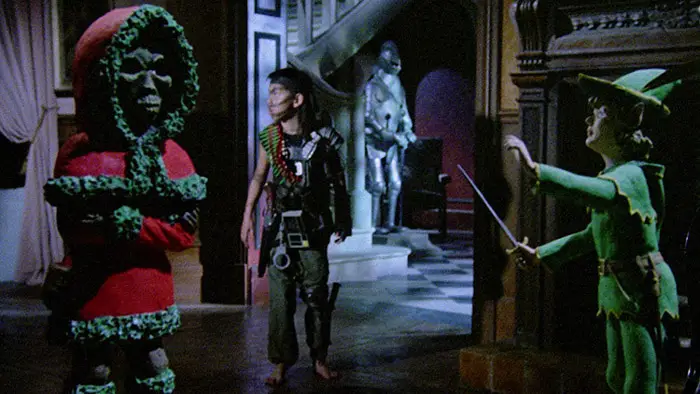 Dial Code for Santa
(1989)
Also known as Deadly Games, this French cult horror film was barely known stateside before its 30th anniversary US art house release in 2019. A small boy tries to reach Santa Claus through the internet and accidentally contacts a maniac who comes over to his house dressed as Santa to kill him. It is a very creepy killer Santa who seems genuinely insane: confused, unhappy, and unable to control homicidal impulses. This would have definitely stuck out amongst the other killer Santa movies from the 80s if it had made it over here. The perils of the internet plotline may also be close to the first time the issue was seen in a movie. It is also highly stylized, with some sweet colored lighting and even a Hans Jurgen Syberberg oversized snow globe to fight in. Why would such a remarkable picture cause people to suddenly get up and leave the room when it is on?
Probably the monstro mullet hair cut on the French kid. The long part in the back is Crystal-Gayle-hair length, almost dragging on the floor behind him. It makes Joe Dirt's haircut look like Private Pyles's in Full Metal Jacket. Just try not to root for the killer Santa while that mullet is flopping around like a drowning swordfish made of hair. Directly staring at the mullet will cause hair to grow on the surface of your eyes. Guest begone. Streaming on Shudder.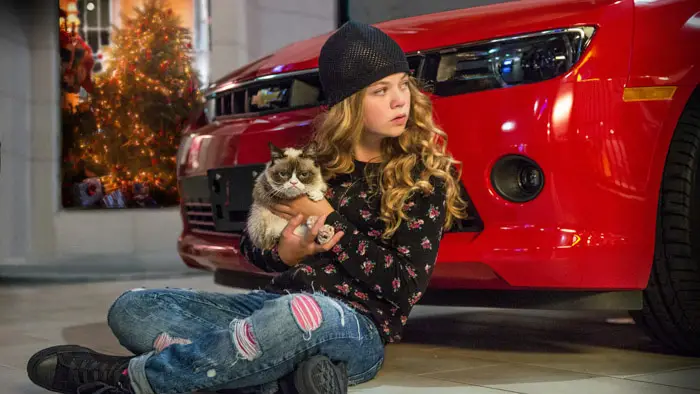 Grumpy Cat's Worst Christmas Ever
(2014)
At the height of the craze for her memes and merchandising, Grumpy Cat scored a Lifetime Christmas movie. Just telling your guests that will have some reaching for their coats, as some folks don't have the stomach for Lifetime movies being watched with others, poor things. Then you can tell them that the movie is brilliant, which it is. This will have guests look at you with a soft pity in their eyes as they slowly back away. They will never know how damn clever and layered this picture is, written and directed by Tim Hill, one of the few directors seen in theaters in 2020 with The Spongebob Movie: Sponge on the Run and the COVID blockbuster, The War with Grandpa. Nor will they grow to revere the fantastic voice work for Grumpy Cat done by Aubrey Plaza, who was so good in 2020's Happiest Season on Hulu. Plaza nails the essence of the everything-hating feline, who is the perfect icon for seasonal humbugs. Yes, Virginia, there is a wonderful Grumpy Cat Lifetime Christmas movie.
So if there is anyone still left in the room, much less still talking to you after you whip this out, what can make them go away, as this is, after all, a very funny and engaging movie? The pair of bumbling burglars story element. Just like pouring lead into an eggnog smoothie, there is no way to digest bumbling burglars in a movie. This has been proven in picture after picture, with Home Alone being either the exception or the ultimate example, depending on your generation. Bumbling burglars provide comic relief in what is supposed to be the heavies' role, which never works, and they are always in a pair, bringing the pain in stereo. There is an attempt to smarten up the concept here by making both burglars musicians, which might have worked but bumbling burglars with guitars are still ####ing, ####ing, bumbling ####ing burglars. You can almost hear the tires squeal as your guests high tail it out of there. Available on Amazon Prime for purchase for just 99 cents, so you can have this on hand to banish well-wishers for years to come.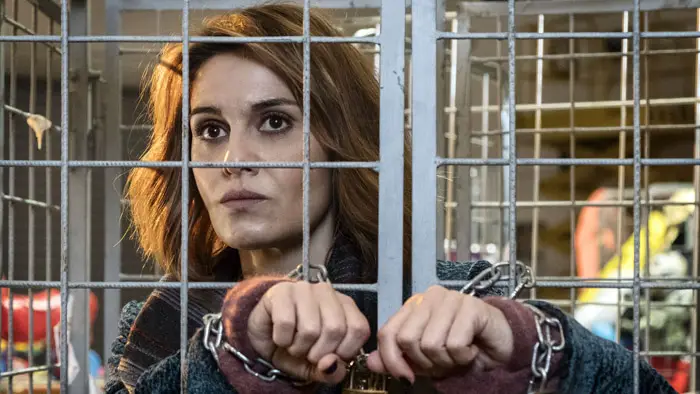 The Legend of the Christmas Witch
(2018)
Oddball at all turns, this Italian holiday movie follows the Befana, a witch who got into Christmas in Italy hosting the wise men one night on the way to Bethlehem and went on to deliver toys to Italian children every Epiphany Eve on January 5th. In this movie, she is a school teacher by day but transforms at night into the centuries-old present slinging witch, which is a pretty nifty Christmas tradition—way to go again Italy. It was made by the Italian horror maestro Michele Soavi and is a beautifully shot and crafted piece of work, with sequences of maniacal wonder flaring up as it often does in Italian cinema. 
So why would anyone suddenly get up, make excuses about an early wake-up, and exit when this movie is shown? It beats me, but I'm watching the movie with Italian goggles, like when I watched Troll 2, because I wanted to see the social commentary on processed food from the Claudio Fragasso screenplay. I saw another example of Fragasso's cinematic environmental activism while everybody else saw Troll 2. Same thing with this one. Even if the viewer is a fan of Italian horror directors, with Michele Soavi being the most famous in the U.S. during the 90s with The Church and Cemetery Man, this is a family holiday movie, not a hyper-violent, hyper-stylized spaghetti nightmare. Also, the English dubbing is even worse than it was back in the day so that all unwanted partygoers will beat it with haste. Streaming on Amazon Prime.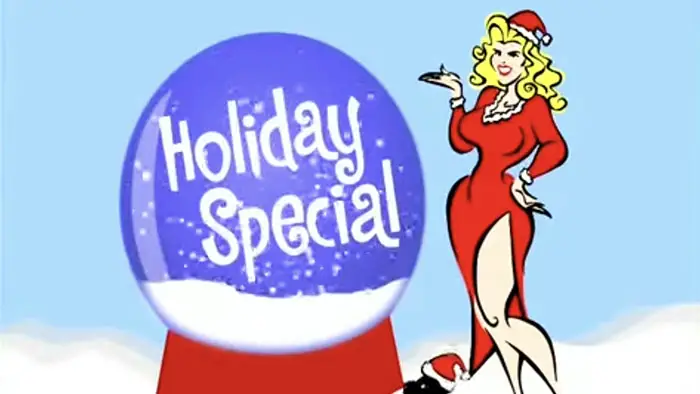 Anna Nicole Holiday Special
(2002)
If this video doesn't make your guests leave your holiday party, then check their pulses…
From the brutal dawn of reality television comes the greatest drunken mess of a Christmas special ever broadcast, and if you lived through the 70s, you know that is saying something. Anna Nicole Smith is the kind of celebrity that will have folks jumping out of their seats and running, but those who stay will be punished by the Christmas storm that is her cousin Shelley from Texas. If Anna Nicole is the Rudolph of this special, then Shelley is the Abominable Snowman, wrecking alcohol-fueled Christmas havoc all through that good night. By the time cousin Shelley starts whipping the tar out of the production staff, your entire place should be deserted. This one is available on Youtube for your guest removal needs. 
WARNING: Do not stream online during any virtual white elephant parties, as you will be forcing people out of their own homes way ahead of all the evictions this spring. Happy Holidays!