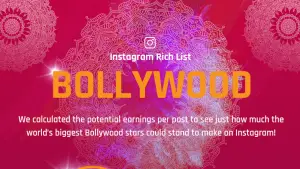 Digital platforms have undoubtedly revolutionized the way that brands market themselves in the 21st century. While print media and television advertising still has its place, social media marketing has become the 'go-to' resource for companies across the world. Instagram is a great example of this in action, with the visual platform lending itself perfectly to a new generation of 'social influencers'. As one of India's most lucrative industries, Bollywood is seen as one of the best vehicles for brands seeking to promote their goods and services. According to recent research by Betway, many of the top film stars in India have been able to cash in on their popularity on Instagram to great effect to significantly boost their earnings.

Chopra a Shining Light on Insta
Priyanka Chopra is Bollywood's undisputed queen of Instagram, with her estimated earnings of ₹13,569,102 on the platform putting her ahead of the competition.
More than 53 million people follow Chopra on Insta, highlighting why brands are so eager to have Chopra endorse them.
Her marriage to Nick Jonas in 2018 helped to boost her profile even further, placing her name in front of an even wider audience.
Chopra is rated as the 28th most influential star on Hopper HQ's Instagram Rich List, putting her just a couple of places behind cricketer Virat Kohli.
Ladies Leaving the Men Trailing
Betway's study into Insta earnings is bad news for male Bollywood stars, with only Akshay Kumar making it into the top 10.
Kumar raked in more than ₹10 million, putting him sixth on the list behind Chopra, Deepika Padukone, Alia Bhatt, Shraddha Kapoor and Jacqueline Fernandez.
However, Kumar smashes it out of the ballpark when it comes to net worth, with his ₹1,870 crores significantly higher than any of the ladies listed.
Neha Kakkar, Katrina Kaif, Anushka Sharma and Sunny Leone round off the top 10 for earnings on Insta, to prove that gender plays a big part in social marketing.
Male Stars Manage to Cash In
While most of the men in Bollywood trail behind their female counterparts in terms of Insta earnings, the Betway study shows that we shouldn't feel too sorry for them.
Salman Khan is second to Kumar in the male list, generating an estimated ₹8,535,342 via the social media platform.
Ranveer Singh, Varun Dhawan and Shid Kapoor round off the top five, with each leveraging their appeal to younger audiences to great effect.
Shah Rukh Khan, John Abraham, Abhishek Bachchan, Farhan Akthar and Arjun Rampal complete the top 10 highest Bollywood earners on Insta.