Those of us who eat, sleep and breathe horror movies know that European cinema has always been a strong component of the genre. You could always find a Paul Naschy movie at the drive-in, Italian cannibal flicks at the grindhouse and even some random Mario Bava or Anthony Dawson movie on broadcast TV at 2 am or with the local horror host. The home video market made many of these films even more accessible if you were lucky to have an independent video store that took pride in its selection.
Now, with the internet and streaming, we have even more at our fingertips – so much so that it can be difficult finding something worthwhile. For every great, or even good, film, there are hundreds of domestic and foreign mediocrities daring us to waste our time. Here, then, is a list of seven European horror movies, all released within the past five years, that are available on any number of streaming services and worth a click. Interestingly, they all share themes of isolation and/or xenophobia, which should resonate with anyone keeping up on current events.
El Ataúd de Cristal aka The Glass Coffin (2016, Spain)
This one's sure to get you in the mood for awards season. Amanda (Paola Bontempi), a highly acclaimed dramatic actor, is receiving a lifetime achievement award for her 20 years of fantastic performances. She gets into a limo that will bring her to the ceremony, but soon she realizes she's going in the wrong direction and the doors are locked. Excerpts of interview clips loop on the tv screens, mocking her, and an ominous Jigsaw-like voice emanates from a sinister Hal-like camera eye. The limo driver has other plans for her and she's left trying to figure out not only how to get out of there, but why this is happening to her. Shot in a futuristic cyberpunk neon, director Haritz Zubillaga delivers a powerful feature debut that captures claustrophobia and degradation without showing too much. Seriously, this guy should be getting more work.
The Night Eats the World (2018, France)
Film Threat Review – Sam (Anders Danielsen Lie) goes to his ex-girlfriend's apartment to get his stuff, but there's a big party and she's preoccupied. He falls asleep while waiting for her and wakes up to a world overrun by aggressive zombies. His solution is to board himself up in the building and spend time playing music, scavenging the other apartments for food and hanging out with a trapped zombie he keeps as a pet. Slowly, the outside world becomes an abstract concept. This debut feature by director Dominique Rocher speaks volumes with very little dialog, a testament to Lie's astounding performance while keeping in the personal metaphor tradition of Jean Rollin.
Revenge (2017, Belgium/France)
Film Threat Review – Revenge is on a lot of lists and for good reason. Matilda Anna Ingrid Lutz plays Jen, the naive young mistress of handsome billionaire Richard (Kevin Janssens) who brings her to his hunting lodge in the desert for some fun before his friends arrive. Stan (Vincent Colombe) and Dimitri (Guillaume Bouchède) show up early, though, and assault Jen while Richard is out. Rather than side with her, he leaves her to die in the desert in order to protect his friends and his reputation. Fortunately, she's too strong to die quietly. Writer/director Coralie Fargeat gorgeously delivers the classic rape/revenge motif while proving that the woman doesn't have to get naked to be sexy and you don't have to show every detail to get the brutality.
The End? (2017, Italy)
Some of the best zombie movies to date have come from Italy. Masters like Lucio Fulci and Umberto Lenzi helped shape the monster into what it is today. Director Daniele Misischia can add his name to the list with this simple, but effective, exploration into the subgenre. Alessandro Roja plays Claudio, an obnoxious Wall Street type who goes to work ready to make a huge deal and instead gets stuck in an elevator. To make matters worse, zombies have taken over and he's stuck watching the apocalypse from a small gap between the elevator doors. The barely open doors. He helplessly witnesses the undead as they devour his coworkers. His cell phone isn't much help, either. Roja intensely carries the film through his character's extreme arc, while Misischia brilliantly adds a touch of the Demons series (particularly the second one) to this fantastic entry into zombie lore.
Be My Cat: A Film for Anne (2015, Romania)
Be My Cat will probably be the most controversial film on this list, not for content, but because it's a technically imperfect found footage movie made by a guy in his mom's house. It is worth watching, though? Absolutely. Obsessed with Anne Hathaway, director Adrian (played by writer/director Adrian Tofei) hopes to impress her by making a film that will showcase his filmmaking skills. Basically, he lures young actresses to his "set" and reveals his disturbingly psychopathic tendencies. As this truly is a homemade venture, there's very little in the realm of effects, but what the film lacks in blood is made up by Tofei's creepy, psychotic persona and the strong performances of his female counterparts.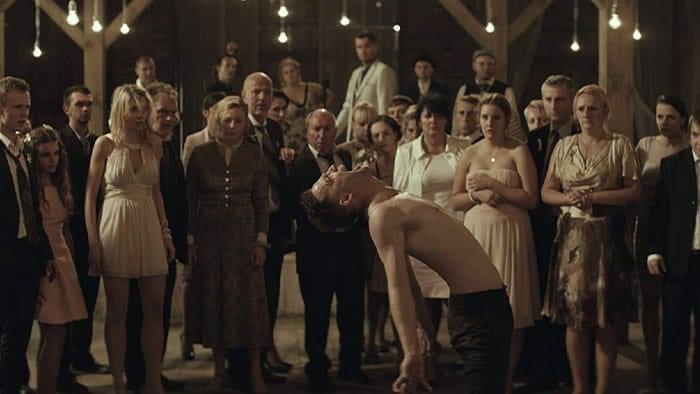 Demon (2015, Poland/Israel)
If you regularly watch those my-life-was-ruined-by-a-ghost "reality" shows, chances are you've seen the story of the dybbuk box. Marcin Wrona's Demon brilliantly twists the legend into a tale of possession. In preparation for his wedding to a local woman, UK-born Piotr (Itay Tiran) moves to a quiet rural property in a secluded small town. He finds a skeleton while landscaping, and suddenly sees sinister visions while his personality changes. Is he just another untrustworthy foreigner or has something evil captured his soul? Though not necessarily frightening, the film features stunning cinematography and plenty of Polish humor, as well as an enthralling paranormal mystery.
German Angst (2015, Germany)
From sleazy "krimi" mysteries and violent depictions of witch-hunting to full-blown necrophilia, post-war German horror has been marked by a particular brutalism unique to the culture. Now three of the country's darkest directors join forces for an amazing anthology. Nekromantik director Jörg Buttgereit turns in the first piece, "Final Girl." If you know his films, you know what to expect and that's all that needs to be said. Michal Kosakowski (Zero Killed) follows with a genuinely uncomfortable tale of two Polish deaf mutes who encounter a group of neo-Nazis in an abandoned building. To be honest, you might need a break after this one as it is simultaneously savage, heartbreaking and completely engrossing. Masks and Tears of Kali director Andreas Marschall delivers the final blow with a lengthy Cronenberg-like installment about a photographer who gets drawn into a mysterious plant-worshipping sex cult. They definitely saved the best for last with this psychedelic Burroughsian riff on lust and loneliness, with the first two segments slowing building to this point.