2020 was very rough for the film industry. But for the movie lovers, there are many decent films to have a good time with. Here is the list of the best movies of 2020. There are some definitely worthy options to watch at the weekend. 
By the way, there is one more way to rest we wanted to remind you of. You can make money off playing casino games! You can find out which $5 minimum deposit casino is safe and legit at MinDepCasinos. They know everything about the niche. You can find all the information about all the gambling establishments there. Let's get back to our movies.
1. Nomadland
When the only enterprise in the small town got closed, hundreds of people lost their jobs. The main character has lost her husband, so, realizing that nothing else keeps her in town, she gets into a van and embarks on the road to nowhere. Becoming a nomad, she meets the same deprived people who tell her their stories, and she responds with her pain.
2. Never Rarely Sometimes Always
It is a story of a 17-year-old girl who has got pregnant and wants to have an abortion. But in the state where she lives, it's impossible to do it without the permission of parents. After unsuccessful attempts to provoke a miscarriage, the girl steals money from the store where she worked and goes on a trip to New York. The film impresses with its honesty and emotionality.
3. Soul
Joe Gardner, a high school music teacher, had long dreamed of performing jazz music on stage and finally got the chance to perform and impress other jazz musicians along the way. However, as a result of an accident, he dies, and his soul goes to a special place. Now he needs to work with souls who must determine their preferences before being transferred to a newborn child.
4. Another Round
This is a comedy by a Danish director Thomas Vinterberg about four school teachers who decided to test an interesting theory of a real scientist that maintaining a certain level of intoxication during the day makes a person happy. The theory sounds scientific and encouraging, but how will it work in real life? Presumably, things aren't going as smoothly as we would like.
5. The Nest
This movie can be described as a mixture of historical drama and psychological thriller with some A-list stars in it. According to the plot, in the 1980s, an entrepreneur persuades his wife and children to give up the American dream and life in an ordinary suburb and return to the UK – where he leases an old estate. And here is where the "normality" ends.
6. 1917
The First World War is filmed much less frequently than the Second World War, so the movie became an unexpected reminder of how cruel the beginning of the century was for humanity – it took an unprecedented number of lives in the war the meaning of which was not understood.
7. I'm Thinking of Ending Things
There is a common cliché about movie adaptations: "The book is better." The more remarkable and valuable are the reverse cases. If you are ready to rack your brain and if you're into deep and extraordinary films, you will enjoy this movie a lot.
8. The Invisible Man
The main horror premiere of 2020 perfectly keeps the level of suspense. Unlike many newcomers to the genre, the director Leigh Whannell does not go overboard with scary moments, but he also does not hesitate to use them. In his hands, it is not a cheap trick, but a tool that actually works.
9. Emma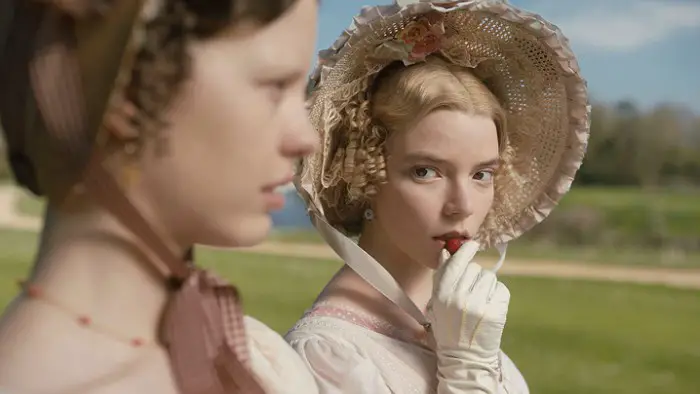 An adaptation of Jane Austen's Emma, a sparkling novel about a "a heroine whom no one but myself will much like" was written in the 19th century and is especially relevant today. Autumn de Wilde's comedy turned out to be bright, smart and very stylish. "It's like swimming in a giant cupcake," – said the lead actress Anya Taylor-Joy about the shooting.
10. Tenet
It is a very beautiful and energetic (sometimes even too energetic) film. It combines an amusing idea of the time inversion and gunfights, chases, explosions and brilliant camera work. Nolan's film is worth rewatching at least a couple of times because it is difficult to understand it all right away.
11. Onward
It's a love ode to RPGs and the fantasy genre itself. But more importantly, it's a story about grief and acceptance, sincerity and prejudice. Timeless themes in a beautiful shell, flavored with geeky references and a couple of really funny jokes. What more could you want?
12. Bad Boys for Life
Unlike the first two parts, Bad Boys for Life try to hook the viewer not only with gunfights, explosions and vulgar jokes. The writers were able to come up with an interesting plot, as well as add depth to the characters, eventually allowing the talents of Will Smith and Martin Lawrence to shine.
13. Extraction
The banal story about the rescue of a hostage boy by a callous but conscientious special forces soldier played by Chris Hemsworth is told sharply, dynamically, harshly, so that the visual side does not give us a chance to get distracted, but at the same time, a sufficient share of sincerity is there.
14. The Devil All the Time
Provincial America of the 50s, which mentally has not yet managed to recover from the shock of World War II, but is already purposefully rushing into a new war in Vietnam. There is no single storyline here – there is a set of stories from different characters united by a common mood of overwhelming evil which stands behind ignorance, piety, war trauma and dull patriotism.
15. The Gentlemen
Guy Ritchie's favorite genre: gangster London, which has a place for sophisticated lords, crime bosses, and teenagers with an incomprehensible future. This film has everything needed for a good British film: great acting, selective jokes and unpredictable plot twists. 
We hope you'll enjoy watching them!