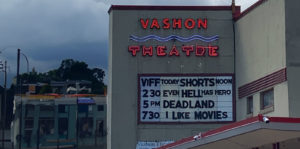 Closing out VIFF 2023, Sunday's screenings included Escaping Ohio, The Herricanes, and Raging Grace, with filmmakers present. Escaping Ohio is a funny romantic comedy about raising Ohio for all who may think it's vanilla. Winning VIFF's Best Screenplay and Best Director, Paris Zarcilla's, for his film Raging Grace was an excellent ending to a weekend of great filmmaking and storytelling. Zarcilla brought a certain level of poise and sophistication to VIFF, and the same can be said for Raging Grace. This dramatic horror-mystery film reveals threatening secrets for undocumented Filipina immigrant Joy and her caretaking job, which she does to secure her and her daughter's future.
The Herricanes, Olivia Kuan's documentary about The Houston Herricanes, a pioneering team that was part of the first women's full-tackle football league in the 1970s, was a fantastic film about commitment, courage, and strength, especially in our current times. The Houston Herricanes created a playing field for women and football that continues to break boundaries. In addition, Kuan provides all the critical commentary that supports Title IX as part of the Education Amendments of 1972. These women played for the love of football, and so do many more. The Herricanes won Audience Award for Documentary Spotlight at SXSW 2023 and the prestigious director's Louis Black/Lone Star Award.
"The Vashon Island Film Festival is the desired audience for The Herricanes," says Kuan. "I made this movie because I wanted people who had never thought about anything like this to have their minds blown to the point where they are willing to think about something they had never thought about before. If a dad in Iowa hasn't thought their daughter should have some opportunity like this, he can now. The micro-adjustments in our culture is what I was hoping to find."
Taking home VIFF's Quartermaster Award, the film Scrapper, directed by Charlotte Regan, with its lead actress, Lola Campbell (Georgie), winning VIFF's Best Actor. In addition, Scrapper's Molly Manning Walker won the VIFF award for Best Cinematography. Having already won the 2023 Sundance Grand Jury Prize for World Cinema, Scrapper continues to steal every indie film lover's heart. Twelve-year-old Georgie tries to live alone in her outlying London flat, making money from stealing bikes with her friend, Ali (Alin Uzun). She keeps social workers off her back by pretending to live with an uncle after losing her mother to cancer. When her father appears at the door, Jason (Harris Dickinson), Georgie puts him through the wringer, dismisses him as a low-life for not being a dad, and realizes her sassy, bike-stealing, and survival-skilled ways may have all come from him. In the best British style and humor, Scrapper is not just a crowd-pleaser but also a heart-driven film about survival.
The Vashon Island Film Festival, presented by the Vashon Film Institute, takes place the second week of August and plans to launch Framechangerz, a multi-week, summer, film-intensive for youth that will happen on Vashon.
"Although we have big plans to grow the festival as we move forward, it's important to me that VIFF retains its indie spirit," says Sayre. "These types of films have so much to say, yet distributors prefer content with blockbuster budgets and big names. They don't think audiences will watch films without them. The onus is on us to tell them they're wrong. The only way to ensure that independent cinema continues to thrive and inspire is by showing up to support independent films, whether it be in a festival setting, an independent theater, or at home on your couch."
"…"We must show up for these independent films and festivals so they can continue to thrive and inspire.""