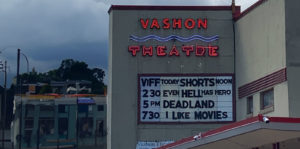 For year two, the 2023 Vashon Island Film Festival (VIFF), which took place August 10-13, 2023, continues to be an independent filmmaker's paradise and a film lover's haven. Topping last year's inaugural event, VIFF founder, international film producer, and island native Mark Sayre went the distance, curating several dynamic and award-winning independent films from the 2023 festival circuit while providing Vashon Island locals with very special film events that included several filmmakers and others involved in the creative process.
Part of the VIFF attraction is the journey of hopping ferries and breathing the ionic sea air that sets the mood and the pace for deep-diving film watching and a festival experience where everyone is a VIP at VIFF. With the completion of the Backlot, the new state-of-the-art outdoor event pavilion located next to the Vashon Theatre, Friday's Rock on the Rock and Saturday's Night Soirée, with live music, street food, and beer and wine garden, and Sunday's Red Bicycle Awards ceremony were fully attended and added to the never-ending 2023 VIFF community vibe.
The 2023 VIFF juror members included actor Cameron Jebo (Power Rangers Megaforce), actress and producer Ali Richey (Low, Low), actor and producer Steve Swadling (Freedom's Path), author and comedian Amber Tozer (Sober Stick Figure), and actor Dallas Dupree Young (Cobra Kai, 1-800-Hot-Nite), of which several were return VIFF supporters after attending the inaugural festival.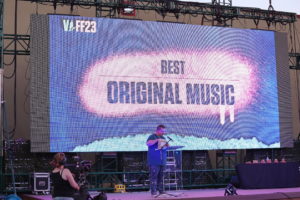 "A well-received curated festival carves out its niche."
"VIFF has been designed as a kind of vacation for indie filmmakers," says Steve Swadling. "It's a reward at the end of a successful season. As a festival for filmmakers held by filmakers, its is a celebration of truly independent cinema. This is what sets it apart from its contemporaries."
Kicking off the first two days of VIFF with two short film blocks, on Thursday, August 10, and Friday, August 12, was a selection of shorts that have been widely programmed and honored on the 2023 film festival circuit, which included Bläckfisk, Closing Dynasty, Cycle, Dead-Enders, Down Home, It Turns Blue, Nicole, We Were Meant To, When You Left Me On That Boulevard, and Will You Look At Me. Taking home the coveted VIFF Burton Award for best short was Closing Dynasty, with Bläckfisk winning the shorts Audience Award.
The filmmakers behind last year's hit film Juniper brought their short Cycle to this year's festival and have found Vashon so inspiring they are working on a new project on the island. "After attending the festival last year, all our Juniper team could talk about was wanting to shoot a movie on Vashon Island," says Olivia Blue, Katherine Dudas, and Madison Lawlor. "The dreamy-ness of Vashon propelled us into our next script. It was total kismet when Mark asked to program Cycle because we already wanted to come out to scout. We can't wait to shoot Theater is Dead here. It's a film that was born out of VIFF!"
"…"We must show up for these independent films and festivals so they can continue to thrive and inspire.""