If you thought that there was nothing left to be done with the slasher sub-genre, then by all means, throw yourself down a flight of steps and make sure you snap you neck on the way down.
People like Scott Glosserman have changed minds, and of course, there's "Hack/Slash."
This is possibly one of the best comic books I've ever read, published by my current favorite comic book distributor Devil's Due Publishing.
Cassie Hack is a girl who was tortured in high school. She was a geeky goggle eyed innocent who was picked on and tormented by literally everyone mostly because of her appearance and her grotesquely overweight mother.
Her mom was the school's lunch lady, who, after children started turning up dead, was discovered to be murdering her tormentors and serving them as lunch. She was then promptly killed and returned from the grave as "The Lunch Lady." Cassie was forced to deal with her death and murdered her own demonic mother, who only had the best intentions… or so she thought.
Cassie grew to be a gorgeous young woman who vowed to hunt down all demons known as slashers. They're not serial killers, no, they're serial killers who returned from the dead as slashers, beings with powers and superior strength who continued their bloodshed.
Cassie, armed with a bat, and teamed with her deformed sidekick/protector Vlad, who for all his strength and power is really just a kid in a giant's body, she hunts down slashers and makes them pay. She comes across a variety of characters, and with her popularity has even come across Chucky and soon many other famous slashers.
Rogue Pictures is now developing a feature film thanks to the popularity of the comic, the graphic novels, the series, and an off Broadway play (seriously), and now the names have shot out like wildfire.
For the film, I'd want a raucous little horror flick. Something along the lines of "Planet Terror" with a strong narrative, a combination of the storylines from "Euthanized" and "Girls Gone Dead," along with some tongue in cheek humor, and references to Chucky and a veritable focus on the partnership/friendship between Cassie and Vlad, as well as focus on Cassie who I am undoubtedly hot for with every issue. Yes, I have a crush on a comic character, is that so wrong? You're telling me you weren't hot for Holly Wood, or Red Monika, or Tigra, or Jessica Rabbit? Moving on…
Who would I want for babealicious Cassie?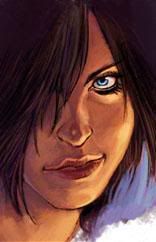 Megan Fox
She was the most recent candidate and a supposedly heavy contender for the role of Cassie. She's been in "Transformers," and it's not certain she can act just yet. Cassie is a complex character filled with insecurities, and strength but is also beautiful. Can Megan Fox convince us that she's a Fish net stocking, dark haired, black lipstick wearing, leather donning Goth? It's possible. She's young enough, and she's athletic enough. But can she pull off Cassie? In Bay fashion, all we saw her do was sweat, smile seductively and emote at the hero's courage, I'd want to see if we can pop Fox's cherry and discover if she can pull off the raucous rough neck act.
Rose McGowan
This has been a name thrown around, but I'm tired of McGowan for a while. Sure, I'd never kick her out of bed, and Rodriguez, I don't blame you, but she's too old for the part, she's too well known, and damn it, I'm sick of seeing her kick a*s. I watched her kick zombie butt for two years, one: in the hype machine "Grind House" was, and two: for the actual film and the following DVD commercials. She can be a nut stomper, sure we get it, but I don't want her on Cassie.
Fairuza Balk
This has been a name constantly thrown around by the fan boys, but she's another I'm sick of watching. She's done the whole Goth waltz already, why do we need to see her do it yet again in this movie? Granted, she's a good enough actress, and she's really hot, but she's still too old for the role, and she wouldn't be convincing enough as the character. Give us someone new.
Juliya
She was a personal candidate for a very long time, but she's just much too mean for the role, and I'm sure she can't act to save her life. Juliya was once a VJ… uh, TV host for Fuse years ago, and back then I would have written her in a fan ballot, but sadly, she's just too obscure. She looks the role well enough, but she just wouldn't convince me she could be Cassie.
Missy Peregrym
Once upon a time, she was supposed to be a big star, but sadly Peregrym just fizzled out as a TV star. Granted, she's not totally unlikable, and untalented, but maybe she the hype f****d her up some. She was great in the remaining episodes of "Heroes" as the shape shifting bitch who manipulated everyone in her path, and she's currently entertaining in "Reaper," so perhaps she can do Cassie? She has the build and athleticism, as well as the charisma, so I say give her a chance.
Melena/Stefani Bishop
This model for Cassie sure is the spitting image of the character. She's practically the living embodiment of the design for this individual, black short hair, petite, make up and all, but can she act? Could she act? And even if she could act, would she risk being pigeon holed as this character? It's a possibility. As for Stefani Bishop, she was in the play "Stage Fright" and garnered great reviews, so it's possible she can make the transition to film if they were willing to take a chance on her.
Mary Elizabeth Winstead
So far, this is my favorite choice from the fans. The girl looks old enough to be Cassie, can hopefully cut the locks and don the Goth attire, and also is not bad to watch on-screen. She's gorgeous, curvy, and usually gives decent performances in her films. Perhaps a role like this can pave her as a horror actress once and for all. I personally enjoy Winstead in most of her films, so as Cassie, I think it's worth the gamble.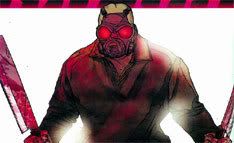 And as for a quick casting plea, for Vlad consider either Andrew Brynarski who has played the humongous lug and slasher freak in the past and can competently mimic Vlad's childish growls and "Hurr, hurr" laughs, or consider the original hacker: Kane Hodder, who is great for imposing large masked slashers, as we've witnessed before. It's possible. Just leave Michael Clarke Duncan out of it, please.
And to Todd Lincoln, make a damn good Hack/Slash flick.
No matter the development, I can't wait for the feature film.
Peace, love, and horror, babies.