Sorry folks, but from now on, Michael Ferraro will not be writing on the blogs. Just kidding. Hah, you should have seen your face, sucker. Seriously, who can replace Michael? With Michael busy and all, he asked me to help him along with the blogs to contribute some of my own thoughts on film, entertainment, etc. To put it bluntly, I was honored. Anyone who reads his blogs knows he has a keen talent, and now I've filled my sucking up quota. I prefer to call it being grateful, but I digress.
The title of this entry sounds like a reality show, doesn't it? Almost. Well, if the constant remakes aren't drilling through your brain already, New Line, and Harvey Weinstein are planning a remake for "Battle Royale". I won't gripe about it though. I knew it would happen eventually before the remake trend began, and until any news comes in about pre-production, it's still in the talking stages. Before I ever actually saw "Battle Royale" it became painfully obvious this would be remade.
"Battle Royale" is too good a story to let the Asians have all for themselves, and Americans are too dumb to want to watch a movie with subtitles. Not to mention with the boom of Discount Television (Reality TV), it was going to happen. So, instead of ranting here for four pages about how creatively bankrupt we are, and how stupid Americans are to endure these films and flock to see them, I'll instead offer some healthy advice to Weinstein.
Hey, I hate remakes too, but you can't fight what you can't stop. And you can't bitch when you know you're going to see it anyway.
Here's how America will have "Battle Royale", or in simpler terms, here's how we're bound to see the remake.
Firstly, "Battle Royale"? What in god's name does that mean? Americans won't know what we're talking about. Let's call it something that will connect to teens and audiences on a universal level. From now on it will be called "Royal Rumble"! Or if there's copyright issues "Royale Rumble". It works out so well, we'll attract wrestling fans old and young, and we'll make lotsa dough on WWE tie-ins!
And PG-13 only. We can not have a film about kids put on an island to kill each other and have too much gruesome murders. No severed heads, no girls poisoning each other, no suicides, no axes to the head, and no sex whatsoever. Also, make sure these kids are white, morons were complaining about the subtitles, so make sure the white actors speak loudly and clearly and in words without too many syllables.
The girl in the beginning has to be played by Dakota Fanning. She just has to. And let's not have her covered in blood. That's perverse, instead she'll be covered in mud, this will let the audience know that though she's been in a skirmish, it wasn't a violent skirmish. How did she survive then if she didn't kill anyone, you ask? Well, when she arrives she'll be crying and said that someone sacrificed themselves for her.
And the twisted, and oddly joyous video announcer who explains the rules, and death possibilities to the students can be played by none other than Paris Hilton! Of course, who wouldn't want to see her in an army uniform smiling at us?
The main villains, Kazuo Kiriyama, and Kitano have to be played by a seasoned actor and a young actor we're trying to push on audiences. Now, Kazuo will be known as Brett and will be played by Chad Michael Murray, and he won't be an unstoppable killing machine, but a killer with a conscience who will romance one of the girls. Kitano will now be played by Tommy Lee Jones or Samuel L. Jackson, and for quasi-political commentary they'll be ex-military generals.
Fourthly, why school children? Hello? Columbine! This will definitely inspire copycat crimes of kids going on islands to shoot each other up, so instead let's have them as college students! Yes, college students never kill one another. They'll be blond, busty, and footballers, all of whom will look like models and not real students. If the students are old enough to look like adults, but young enough to be believable students, there won't be a problem from the MPAA.
And if all else fails, we'll turn them into mobsters. That's right, gangsters and mobsters were put on an island by their boss to kill one another. No one cares about gangsters and mobsters, so people will love it! Hey, they loved that movie with Ray Liotta where he's a prisoner.
Or turn it from a program designed to keep down the population to a reality show in the future! "Battle Royale" a reality show with adults fighting to stay alive!
You have to go with the reality show angle.
And get the actor rolodex from the WB and UPN and make sure you cast at least twelve people from their shows especially Tom Welling.
Most of all, since Columbine, and 9/11, and high gas prices, we can't have these kids killing, maiming, and torturing each other. Kids aren't violent or sadistic, so it would be unrealistic, instead they have to electrocute one another knocking them unconscious. It makes sense. Instead of the collars exploding and bursting their necks with geysers of blood, have it just electrocute them with a light blue glow to signify electricity, and then we have men around the island come to scoop them up and "exterminate them", which we'll never see, because that'd be too violent. It's clean, it's safe, and it's PC.
Lastly, as the director let's hire someone who thinks he's underground, yet really is one of our stooges. Someone who is young and hip with the kids, yet knows how to fall in line. Eli Roth! Of course, it's so good! He's quasi-underground, he's convinced himself he's a studio rebel, when really he's our stooge, and he'll do anything to get attention to his movie, even saying it will be better than the original! Of course! But wait, he's a rather violent guy, let's get Rob Zombie! Yeah, he's a sell out! No… wait, Paul WS Anderson!
The director for "Battle Royale" will be Paul W.S. Anderson! It works out so well!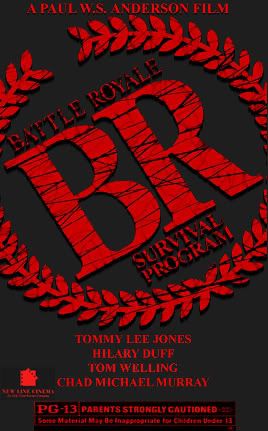 And there you have it Weinstein, you have your remake of "Battle Royale". Hey, if you were angered at any point during this entry it's not because you thought I was serious, but because you know the studios would actually go through with these suggestions if they could.
Don't shoot the messenger.
As one last statement here:
To further prove that box office numbers mean nothing, here were the early returns for "The Omen remake":
$12,633,666
Notice how the first number is the sum of 6 added together, and then there's 6, and then there's two numbers of 6 divided into two, and then there's 666. Tell me now that the studios aren't bullshitting us. It's about time mental midgets learn that box office doesn't mean quality.
That figure up there proves once and for all box office returns are being fabricated. So whenver anyone says to me: "[This movie] was good because it did well at the box office", my simple reply will be: "Shut the f**k up." Crude, but effective.