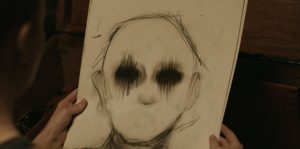 You're Family Now, a concise horror tale directed by Ryan Mack, begins with newlyweds Eli (Russell Shealy) and Sam (Emma Orelove) driving to Eli's childhood home. Due to some traumatic events and all his relatives being dead, Eli has been pretty mum about his life when growing up. But, as the happy couple settles into the house, strange things, such as a bird smashing into a window and dying, begin to unnerve them.
Later that evening, Eli recalls a bizarre thing his grandpa told him before passing away about a creature that follows the family around, killing them. But, they never know when it may strike. Is this creature real? If so, is it the cause of all the mayhem happening around Eli and Sam? Or is it just a way to repress long-forgotten emotions?
Ryan Mack wrote You're Family Now with Logan Mack, who are presumably related somehow. Their screenplay efficiently sets up Eli and Sam's relationship within the first minute or so. It also effectively relays Eli's trepidation without resorting to clumsy exposition to fill in the gaps. This means when the scares start up, the audience wants to see the married people escape unscathed. But this is a horror film, so that is not possible.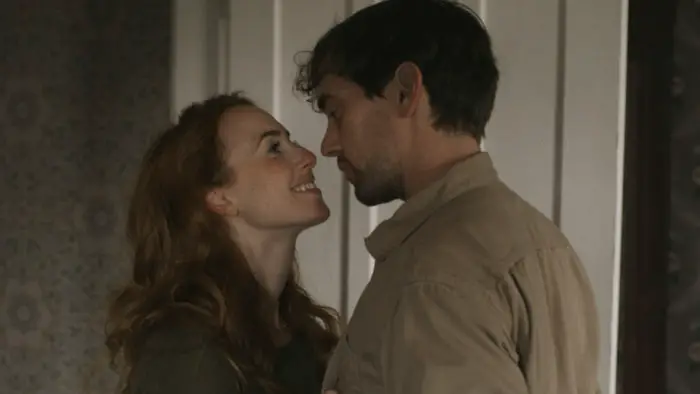 "…as the happy couple settles into the house, strange things…begin to unnerve them."
Helping things along are Shealy and Orelove, who are terrific together. As the only people in the film, it was paramount that the director cast two actors who share strong chemistry and can act scared while still bringing the appropriate gravitas, so the story still has dramatic stakes. That is a tall order for any thespian, but these two deliver in a big dramatic way.
Ryan Mack's direction is just as strong, allowing the drama and chills to be present in equal measure. A particularly intense scene involving a guitar is harrowing. And while that is a lot of good, there is a small problem, and that is where it all leads.
The ending is fine; it makes sense with everything the audience has been shown, and it has some real oomph to it. But it is also easy to figure out by the 5-minute mark. While not a huge dealbreaker, given the skills on display in terms of the direction, dialogue, and acting, that the plot is predictable is a bit disappointing.
You're Family Now might have a plot that is easy to figure out, but it is told most impressively. The direction balances the drama and horror nicely, the dialogue is realistic and engaging, and Shealy and Orelove are perfectly cast. All in all, this short is worth the brief time investment.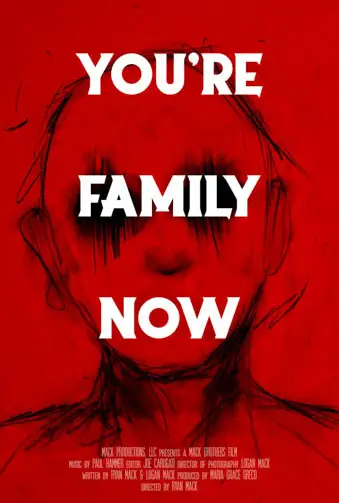 "…balances the drama and horror nicely..."