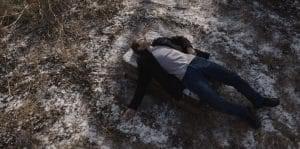 Each player contributes moments of raw power, as well as high-school film=class project levels of ham, so it's hard to follow the film while being regularly taken out of the experience. However, when gripped, the film keeps its hold on the audience quite well. Cunningham's cinematography is initially quite frustrating and unsteady, though it eventually grew on me by the end – there are very few shots in the film that aren't obviously handheld, usually whether the scene is kinetic or not. These choices (when viewed in full context of the film) manage to make their point as to why the film was shot this way and can be firmly effective in key moments, but overall it could have been executed far better. The mixed shot compositions and angles are mostly saved by Cunningham's clever editing and transitions, which makes me believe the film could have been much stronger if camera responsibilities were handed off to someone else.
Ignoring the strong Paranormal Activity influences, Wretch has interesting takes on its genre elements, playing with expectation and audience assumptions in unexpected ways, especially when actively applying its narrative twists. While too much of a pigsty to be considered a solid film, Wretch is definitely worth checking out for its snapshot moments of sublimity.
Wretch (2018) Directed by Brian Cunningham. Written by Brian Cunningham, Janel Nash. Starring Riker Hill, Spencer Korcz, Megan Massie, Savannah Marie, Chris Wilson.
5 out of 10