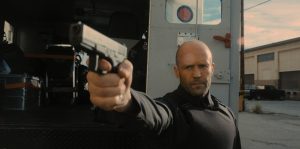 Guy Ritchie reunites with Jason Statham in the action-thriller, Wrath of Man. It might be a typical Guy Ritchie film and loaded with every cliché in the book, but it's still fun. What I like about the movie is how screenwriters Nicolas Boukhrief and Éric Besnard have fun with the plot's twists and turns.
Jason Statham plays H, an armored car guard working for a new company after some of their employees were injured during a violent heist. He is quiet but deadly, and seemingly, his only friend is his immediate supervisor, Bullet (Hold McCallany). H's pissed-off co-workers include Boy Sweet Dave (Josh Hartnett), Hollow Bob (Rocci Williams), and Dana (Niamh Algar).
While out on their first run collecting hundreds of millions in cash, H, Bullet, and Boy Sweet Dave are attacked by a gang of hijackers led by Jackson (Jeffrey Donovan). H… you know, Jason Statham… quickly kills a few of the armed thieves and saves the day. H's boss, Terry (Eddie Marsan), thinks he should go on desk duty and see a shrink, but the company's CEO wants to promote him.
So far, Wrath of Man might seem like a relatively typical story of a highly trained killer protecting an armored car but then come the twists, revealed in flashbacks. These flashbacks gave me flashbacks to the flashbacks made famous by Lost. Over the next hour, we go backward and forward in time, revealing precisely who H is and why he is supposedly working for this specific armored car company. We learn why he has such a stern and deadly demeanor.
"…an armored car…[is] attacked by a gang of hijackers…"
Then another set of flashbacks and flashforwards uncover the motivations of the robbers. Now let's add the presence of FBI agents and their boss Agent King (Andy Garcia). Twists and turns are typical in heist thrillers like this, but I appreciate the genuinely fresh take on the various tropes. So much so that I didn't mind watching the sometimes convoluted flashbacks for about 80% of the entire film.
Let me set expectations. The action in Wrath of Man is primarily gunplay and car chases. There's not a lot of the hand-to-hand combat that you'd expect from a Jason Statham vehicle. Gun violence over two hours can feel repetitive, but it all feels fresh here, thanks to the way Ritchie stages it all. As you'd expect, the body count is high. There really is no guessing who lives and who dies, though it's not hard to figure out who the inside person is and who among the dead are not actually.
I have to mention that I'm sick and tired of the not-really-dead trope. It's just so disingenuous, especially here. We see it coming a mile away, and it feels like the filmmakers got lazy and assumed viewers wouldn't care. Well before the dead character comes back, we know that they will be, and I'm insulted as hell at how stupid Ritchie thinks I am.
Also, allow me to defend the title, which gives off a supernatural vibe. The admittedly stupid moment in which it's referenced fits with the eerie tone that may or may not exist but has everything to do with the spiritual nature of the phrase "Wrath of Man" and the clever use of chapter titles. The clues are sprinkled throughout, but they are subtle.
I had fun with Wrath of Man. I loved the use of flashbacks. All the characters were stiff, except Donovan, but I expect that in action movies. I honestly can't wait to see this film again.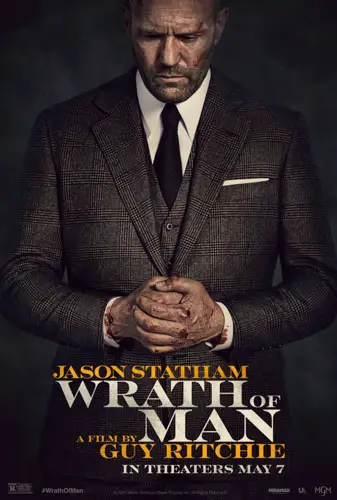 "…there really is no guessing who lives and who dies..."