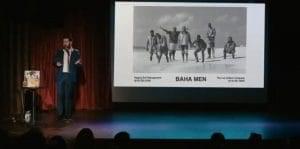 In 1998 Michigan State University used a version recorded by Chuck Smooth. But wait, there's more to this already convoluted saga. In 1992, two Jacksonville high schools kids with aspirations of becoming famous made a few sample tracks, including one with the phrase "who let the dogs out" and the barking noises. Moreover, I'd be remiss if I didn't mention 20-Finger Productions and their singer Gillette. She released a track titled Who Let Them Dogs Loose?
There are several more names and colleagues and people who lay claim to have written this song; a whole town in Michigan, Dowagiac, even gets in on the action. Ben Sisto, who hosts a presentation on this complicated issue—a talk the movie uses as a springboard—did eight years of research and was still discovering new material while filming Who Let The Dogs Out.
Anslem Douglas, the Baha Men, Jonathan King, Keith  Wainwright, the two now-grown Jacksonville rappers, lawyers in involved in the cases surrounding the song and other major players, all of whom want their side of the story told, sit down for interviews. Brilliantly, neither Sisto, nor Hodge, approach their subjects, nor the song at the heart of the matter, with malice or irony.
"…Sisto wanted to correct the poor source, and this led him down a proverbial rabbit hole from which he wouldn't emerge for years to come."
There is a sequence where Sisto brings two floppy disks to a data preservation specialist for them to be correctly cleaned up. Then he tracks down the same kind of machine the songs on the discs were recorded with and played them. The build-up to Sisto and the audience, hearing what is on them will have you on the edge of your seat.
The editing is terrific, taking the time to breathe when necessary. This happens mainly during the interviews, to ensure that each person gets their just desserts. But, in moments like with the floppy disks, or discovery of a high school sports team in Austin, Texas from 1986 chanting and barking contentious phrase the movie has the allure of the best thrillers.
I know how that sounds. A documentary about an upbeat, female-empowering dance song is thrilling and enthralling? Seriously? But it is true. In Who Let The Dogs Out Brent Hodge and Ben Sisto approach their subjects seriously and layout a fascinatingly tangled web. In doing so, they've crafted a riveting must watch.
"…a thrilling story of copyright litigation, history scrubbing, betrayal, obsession, and that's all in the first 20 minutes."