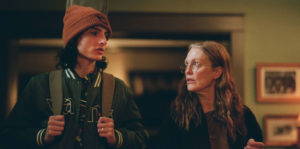 NOW IN THEATERS! When You Finish Saving the World is the directorial debut of playwright, author, and Oscar-nominated actor Jesse Eisenberg based on his audiobook with the same name, which he narrates. The comedic drama lives in your headspace. It's neither spectacle nor glamour, but a bird's eye view into an upper-middle-class family of three in middle America. The film is held together by the robust performance of Julianne Moore, who plays Evelyn Katz, the mother to Ziggy (Finn Wolfhard) and wife to Roger (Jay O'Sanders), a school chancellor.
We meet Ziggy performing his original rock and folk-based music on his online show to listeners worldwide, as he fancies himself a type of teenage cyber-rock star. We immediately are aware that he is wrapped up in his existence, not realizing anyone else is in his orbit. In all his teenage awkwardness and myopic vision of life, Ziggy's unabashed commitment to his music is played out with great poise. Of course, it helps that he earns money from it.
"…focuses on Ziggy and Evelyn's relationship, which has become disconnected…"
The Spruce Haven domestic shelter director, Evelyn, is a seemingly emotionless, brainy woman. Her commitment to her civic duty of helping women and their children through family crises is unfaltering — much like her smart car, her classical music, and how she operates the shelter. Evelyn's psychology and intellect live in perfection for the greater good, not the shallow and frivolous, but logical, sensical, and worldly, unlike the worldwide web. As the film establishes the character and flaws of the Katz family, which at first appear independent of mind, they ultimately morph into selfishness and narcissism.
When You Finish Saving the World focuses on Ziggy and Evelyn's relationship, which has become disconnected and tough. As Evelyn tries to engage, she holds her emotions and directs her attention to Angie (Eleonore Hendricks) and her son Kyle (Billy Bryk), who have come to the shelter for a safe place away from an abusive father/husband. Evelyn quickly discovers that Kyle is innovative, productive, and considerate, perhaps even gifted. She sets her sights on molding him in her image of intelligence and tries to expand his horizons. Meanwhile, Ziggy is falling for Lila (Alisha Boe), a politically and social-minded teenager, who wants no part of him, but accepts his friendship at arms-length. Lila allows Ziggy to set her radical poem on the Marshall Islands and the oppression of its inhabitants to music. As these storylines take off, they eventually find their demise until Ziggy, and his mother face each other in wonderment.
When You Finish Saving the World offers unique insight into family dynamics in a modern society where the shallowness of a virtual world collides with real-life based on purpose and reason. Although each character comes full circle, I was left despondent. There is no finish or acceptable bond between Ziggy and his mother. At the end of the film, Ziggy walks out of a class and heads to Safe Haven, where his mother has been watching his online vlogs and performances, but there's no human contact, only a shared look. A type of emptiness that left you feeling wanting something else.
When You Finish Saving the World screened at the 2022 Sundance Film Festival.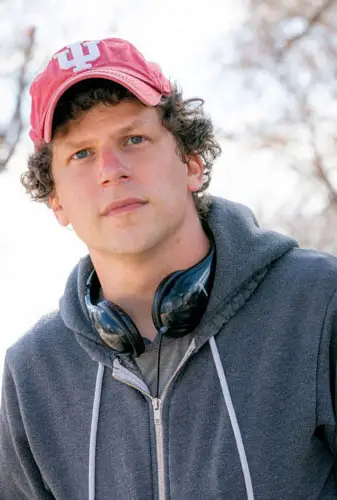 "…held together by the robust performance of Julianne Moore..."