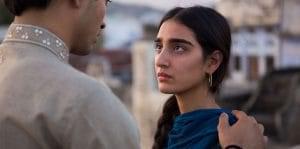 There's a certain level of bravery I see in films that makes me glad I'm in this business of film criticism. There are stories that the world needs to hear and passionate writers, directors, and actors willing to put themselves on the line at the risk of mob backlash to tell their story.
Watching Iram Haq's What Will People Say, I felt like the person who exchanges pleasantries with my neighbor across the street while never suspecting what's actually happening in this family until you see their story on the big screen because the daughter made a film of her life living across the street.
Aisha (Maria Mazhdah) is a smart and popular Pakistani teen living with her family in Norway. Aisha has many Norwegian friends, and her family is finding relative success in this Western country. Aisha's father, Mirza (Adil Hussain), brought his family to Norway in hopes of a providing a better life and better education outside of Pakistan.
"…lands several hard punches on Daniel before turning his aggression to Aisha."
As teenagers do, Aisha develops a serious crush on a local Norwegian boy, Daniel (Isak Lie Harr). Aisha's life takes a horrible turn when Mirza catches Daniel in Aisha's bedroom late at night holding hands. Mirza lands several hard punches on Daniel before turning his aggression to Aisha.
Word of Aisha's late-night dalliance spreads throughout the Pakistani community, and Mirza is fearful his reputation is tarnished. The next morning Mirza and Aisha's brother, Asif (Ali Arfan), take her on a "secret" trip. Terrified and worried that her life is in danger, Aisha attempts an escape that goes nowhere and ends badly. The secret trip ends up being a one-way trip to Pakistan, where Aisha is handed over to her aunt (Sheeba Chaddha) in hopes of removing any Western influences she picked up living in Norway.
Admittedly I'm using kid gloves in this plot description, Aisha's journey is harrowing, to say the least. She is essentially legally kidnapped and locked away in a foreign county, brutalized by her family in a failed escape attempt, and then exploited by the local authorities in an extortion ploy.
What Will People Say presses hard on the themes of the normalized cultural abuse of women and presses even harder on its treatment of young girls. Clearly, the film's message is one of raising awareness of abuse—backlash be damned. Her only crime is bringing shame to the family name. As with any foreign films, the level of violence against Aisha and the lengths her father would go to disown his daughter is disconcerting, especially "in these times." It's believably unbelievable.
Maria Mazhdah performance is real, and she holds nothing back emotionally. It's one thing to show what happens to her fictional character, Aisha. But we are so invested in her helpless situation that as an audience, we feel not only the shame she feels and the injustice her character experiences but the sense of dread she feels wondering if her life is about to end. Haq does a masterful job elevating our anxiety for Aisha by extending those moments before doom. It's pure torture.
What Will People Say is a powerful story of a young woman, whose voice and story fall on the deaf ears of society. Hopefully, this film will not suffer the same fate.
What Will People Say screened at the 2017 San Francisco Film Fest and the 2017 AFI Fest.
What Will People Say (2018) Written and directed by Iram Haq. Starring Maria Mazhdah and Adil Hussain.
4 out of 5 stars