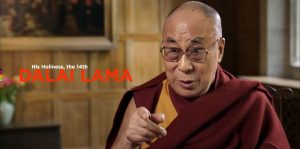 Director Michael Shaun Conaway's WeRiseUp is nothing if not ambitious. See, the documentary is a sprawling look at humanity's history, what we've done to the planet, and how we can fix it before it's too late. The filmmaker chooses to examine this by interviewing successful people and seeing how they mitigate their impact and are choosing to help keep Earth clean. If that sounds like a lot, just wait until you see the list of interviewees, including but not limited to: His Holiness the Dalai Lama, Deputy Secretary-General of the United Nations Amina Mohammed, entrepreneur Richard Branson, designer Kenneth Cole, yoga/activist Seane Corn, and freaking Moby. Phew!
The film is separated into chapters with headings such as "What is success?" or "How are you being used in life?" These subheadings help keep the expansive purview of topics at hand to a somewhat manageable state as the viewer will know what's about to be discussed. Of course, Conaway shows how each element talked about is connected to the previous ideas. In fact, the filmmaker goes to great lengths to highlight how everyone is connected, and that is why humans should care for the floating space rock we all share and each other. A particular moving section deals with refugees and drives this point home with being didactic.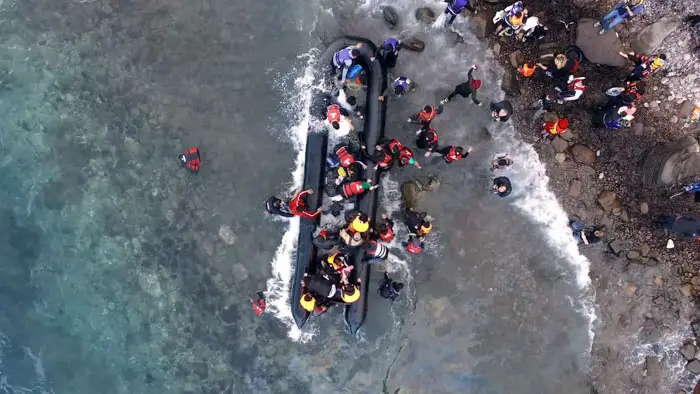 "…a sprawling look at humanity's history, what we've done to the planet, and how we can fix it…"
WeRiseUp often feels like a between intimate diary entries and a scientific lecture, and that sounds like it'd be pretty boring. However, thanks to incredible cinematography by DP Michael Pescasio and creatively employed effects/visual representations of talking points, the documentary is never tiring or dull. Admittedly, a few parts do feel like this may be specifically aimed at business owners and not everyone. For example, the very eloquently spoken Blake Mycoskie, the founder of TOMS, talks about his drive and how his vision to give shoes to all children who need them expanded to other ways to apply similar ideas to other areas of life.
Well, for someone with a successful business that can keep it afloat, this is wonderful advice to ensure that humanity is being helped. But for the person or family scraping by on $30,000 a year and barely holding it together, this is simply untenable. Oddly, this moment is almost directly followed by Corn discussing how yoga is directly related to social justice and that there is no separation between personal and social change. This can be applied no matter one's station in life, making the previous few minutes need to be in a specific position in the business field all the more jarring. But, such things are few and far between, as most of the movie is inspiring, hopeful, and engaging.
Conaway focuses on shared human experiences, seeing people beyond their tie or hair color, and encourages everyone to be mindful of their impact on fellow humans and Earth. Due to these ambitions, WeRiseUp would make an outstanding double bill with Derek DelGaudio's sublime masterwork In & Of Itself. Between both features, every person should realize that they are seen and that we all affect one another, so be an agent of good.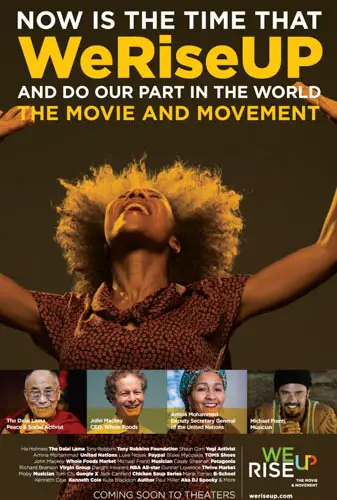 "…incredible cinematography..."