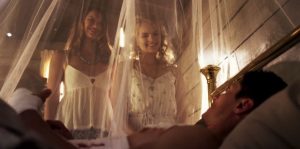 No one would rationally expect the man behind Disneynature fare such as Penguins, Elephant, and Diving with Dolphins to make his directorial debut with a demonic horror feature. Yet here we are, witnessing David Fowler perform a 180° swivel, from anthropomorphizing animals to slaughtering human beings in Welcome to the Circle. The results clearly demonstrate that he should've stuck to voicing chimpanzees.
Greg (Matthew MacCaull) and his daughter Samantha's (Taylor Dianne Robinson) merry camping trip comes to a violent end when a bear attacks their tent. Greg is awoken by Lotus Cloud (Heather Doerksen) and Sky (Andrea Brooks), members of a mostly-female commune/cult called the Circle. Led by the ominous Mathew (Michael Rogers), the Circle believes that each human is assigned a path to salvation. They all worship Percy Stephens, a demon and founder of the Circle and self-proclaimed "greatest entity ever known." Percy Stephens claims to "live in the hidden cabin at the center of the Circle," and whose black-and-white, blurry photos grace the walls of the Circle's cabins. Percy's backstory, involving being pecked to death by a tiger shark, is so convolutedly ludicrous, there's no way of sensibly transcribing it.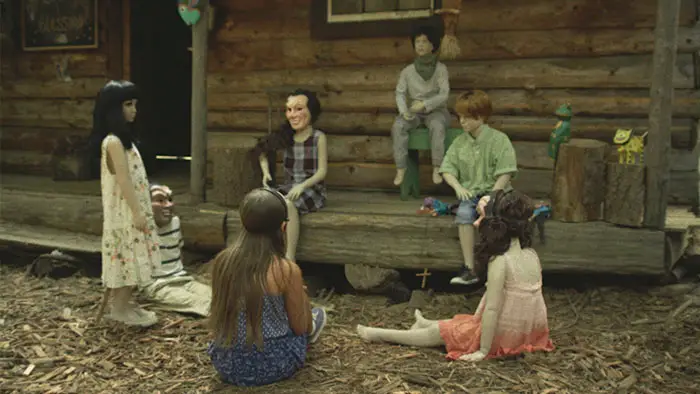 "…worship Percy Stephens, a demon and founder of the Circle and self-proclaimed 'greatest entity ever known.'"
As if demonic leaders and psycho-talk weren't enough, the entire place is filled with freaky mannequins and creepier masks. Samantha seems to love it, refusing to take off one of the masks, conversing joyfully with the children mannequins. So, naturally, Greg leaves his daughter and takes a jolly little nap. After witnessing a nocturnal cannibalistic ritual, Greg's paternal instincts briefly kick in. But his phone has been confiscated, so Greg weeps himself to sleep again instead.
When he and Sam finally attempt to escape the next morning, they swiftly get separated. Greg finds himself trapped in the Circle, which is a fake reality within a fake reality, or, um, something, and comes face-to-face with Percy Stephens. Samantha's left to her own devices, confronting the commune's evil young women. In the meantime, an extremely sullen Grady (Ben Cotton) plans to infiltrate the Circle and rescue Rebekah (Cindy Busby), an acquaintance of sorts. Long story short, Grady teams up with Samantha and confronts multiple versions of Percy Stephens.
Pardon me for zoning out. Honestly, you won't care much by this point, either. There's no sense of involvement, no hook to grasp, no remotely-compelling characters to either root for or hate. The plot is an incoherent mess that rushes from scene to scene in search of a connecting thread of meaning. Delving into mind-bending, horror-cum-metafiction is a tricky proposition, a juggling of genres that demands the most assured directorial hand.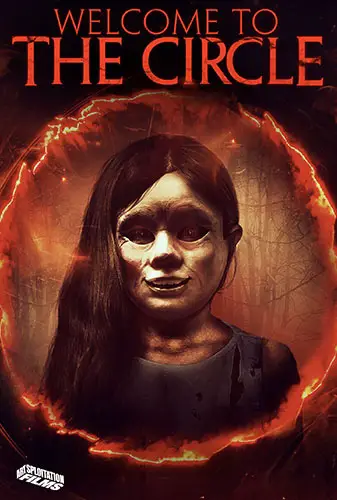 "…so hammy, I could almost smell bacon sizzling."