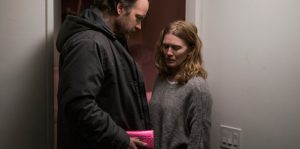 The Lie is a modern noir thriller that appeared at the Toronto International Film Festival in 2018 and is now premiering stateside on Amazon Prime as part of the Welcome to the Blumhouse film series. It tells the story of Kayla (Joey King), a troubled teen who confesses to her divorced parents, Jay (Peter Sarsgaard) and Rebecca (Mireille Enos), that she has killed her best friend (Devery Jacobs) in a fit of rage. Jay and Rebecca start working together to protect Kayla's life from ending, but things get uglier and uglier as the lies pile up.
Veena Sud, who adapted the Danish TV show Forbrydelsen into The Killing for AMC, then Netflix, wrote and directed this remake of the 2015 German movie Wir Monster. It is a well put together film that is dark and sticky enough to hold its own again the other Welcome to the Blumhouse oeuvre, even though it is more of a suspense thriller than a fright flick.
What makes The Lie sickening enough to run with the big, skinless dogs of horror is the strong character development and their compelling arcs. Instead of a rear windshield stick figure family of Mom, Dad, and Kid, each one of these family members is a fleshed-out, complicated person, each with their own struggles outside of the calamity at hand. This increases the viewer's connection with them, making their descent into worse and worse behavior to protect those that they love all the more jarring. The story twists and twists and twists until your head comes clean off.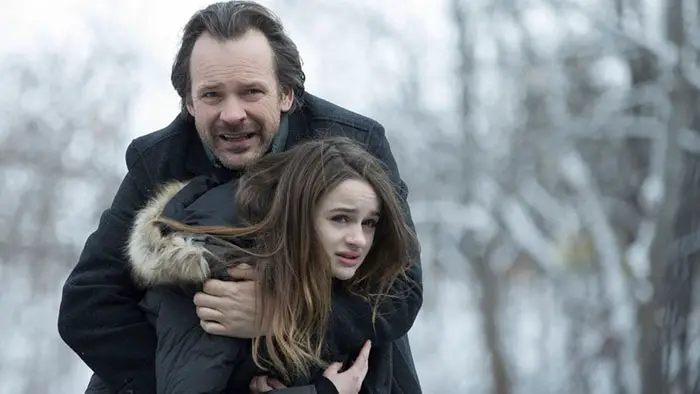 "…a troubled teen…confesses…she has killed her best friend…"
All the while, you are treated to some high caliber acting by the leads. Joey King, who was so good in the Golden Globe-winning The Act, pulls off another amazing performance as Kayla, whose parents wonder how the teen can act so normal after committing such a grisly act. Peter Sarsgaard, who is always great, save for his turn as the villain in Green Lantern, plays the musician who never quite got it together so well you can smell the band rehearsal on him. His character flaws are clear, and his descent is believable.
I am less familiar with Mireille Enos, but not for long, as she is so effective in this, I want to catch up on her work. Her performance was stupendous. Her character has so many layers torn through as she is dragged out into further emotional extremes. Suspense really is an acting showcase, as it gives the performers a chance to get into some intense, dark places of human pain. These actors more than rise to the occasion. Also, us geezers from the 1990s get a chance to visit The X-Files' Officer Krycek, as actor Nicholas Lea is Detective Barnes here. And the excellent Patti Kim is his partner, Detective Kenji.
Part of the Blumhouse mystique is what they have in their vault, just waiting for the right time to be unleashed. With Welcome to the Blumhouse providing an outlet for films like The Lie, one hopes that more of these movies come to the light of day through the streaming format, which will remain the dominant distribution method until the world stops.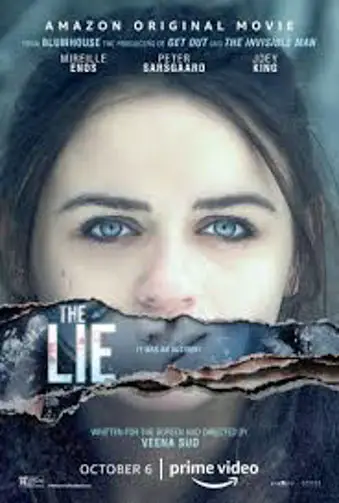 "…sickening enough to run with the big, skinless dogs of horror..."