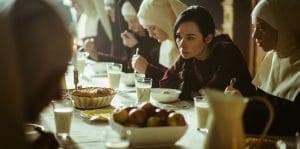 There has been an uptick in the popularity of all things demonic in television and film lately, with the advent of The Chilling Adventures of Sabrina and this wild AF season of American Horror Story, plus the recently released film The Nun which is part of the whole James Wan Conjuring universe. There's nothing new about the genre and if I was more of a snob than I actually am, I might argue that the whole subset of the horror genre could have been put to bed with William Friedkin's absolute masterpiece The Exorcist because honestly, can a better possession film even exist? That's a debate for another time, obviously.
Welcome to Mercy does not even present itself as a film about anything demonic at first, instead focusing on the protagonist Madaline (Kristen Ruhlin, who also wrote the screenplay) and her stay at a Latvian convent after presenting signs of The Stigmata while visiting her childhood home. If there's anyone who doesn't know what Stigmata are, they're phenomena that usually occur in saints, where a person presents with bleeding or wounds that are in the placement of Christ's wounds from his crucifixion.
"Madaline is terrified and keeps hearing ominous whispers and having flashbacks and dreams related to her childhood…"
Madaline does not have a good relationship with her parents, blaming them for abandoning her as a child. Her mother, Alyona, screams at her "I did not abandon you, I wanted you to have a better life!" This statement is something that one must remember while watching the entirety of the film because it is the heart of Welcome to Mercy. Alyona sacrificed her relationship with her daughter, Madaline, when she was a child, just as Madaline leaves her daughter, Willow, with her parents to visit the convent, Mercy, to get help after her "stigmata incident". The incident resulted in Madaline flying across the room and accidentally throwing her daughter, Willow against a wall, leaving her bruised and frightened.