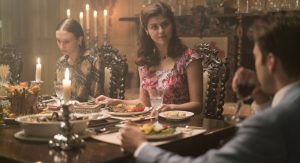 The Blackwood sisters have very few "friends" in town. Merricat's journey to town is faced with a steady stream of bullying with gossipy whispers in the background. Her attempts to appease the spirits may have worked in the past, the intensity of the bullying is coming to a breaking point.
As the title implies, Merricat and Constance have locked themselves away in their "castle" finding comfort and safety in one another and choosing to live separate from the outside world as best as possible. Like any good story, We Have Always Lived in the Castle must threaten the status quoted it's done in the person of cousin Charles (Sebastian Stan).
Charles arrival begins innocently as a family visit to check up on his uncle and cousins, but Charles discovers the slow deterioration of the mansion grounds and takes it upon himself to restore the home to its former prominence. Charles manages to endear himself with Constance creating a budding cousin-on-cousin romance and acting as a surrogate guardian to Merricat punishing her for burying valuable coins, heirlooms, and jewelry in the forest. Here the story focus on the battle of control between Charles and Merricat as Constance stands on the sideline taking both sides.
"…a slow-paced dark tale of family, which is fine if you're drawn to this type of story…"
Quite frankly, We Have Always Lived in a Castle is less of a mystery and more a character study of the three cousins. Alexandra Daddario is cast perfectly as the beautiful Constance that avoids conflicts through people-pleasing. She will side with the bully Charles against her sister just to maintain the peace. Taissa Farmiga carries most of the heavy lifting of the film as Merricat, the insecure, OCD child forced into adulthood at way too young an age. She was never taught to be an adult and protect the family, she had to figure it out on her own.