The rap game is cluttered. For every breakout star, there are a million rappers on the internet who don't make the move from hustle to fame. Vianey Otero, aka "Icey Trap," is in the second group at this point in her career. With tens of thousands of YouTube hits, she's not nobody, but she's a long way from the cover of XXL magazine. In Vianey, Finnish filmmaker Marko Vuorinen profiles her with mixed results. Vianey's traumatic personal history and musical ambitions could make for a compelling story, but the material that Vuorinen has collected doesn't come close to justifying this film's length. Vianey is a rap documentary with a couple of great ideas, but its subject deserves something more thorough.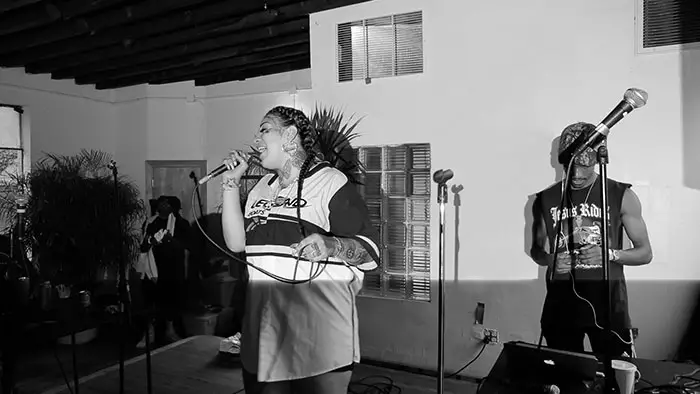 "…she's not nobody, but she's a long way from the cover of XXL magazine…"
Vianey may work best for viewers who have never set foot in an American city. Its signature stylistic quirk is the black-and-white landscape shots of Vianey's neighborhood and the surrounding areas. Striking and beautiful, the cinematography looks like what Ansel Adams would have shot if he was born in the 80s and never left the Bronx or New Jersey. It's hypnotic watching these static shots of New York and New Jersey street corners, and I would happily have watched a 15-to-20-minute short film just soaking in the atmosphere.
But a film that almost hits the hour mark is another matter. And that's a problem for Vianey, because the film does almost nothing but show the same types of shots for its entire runtime, playing over an extended interview of Vianey herself. The interview is compelling and raw, going over her life chronologically—her emotionally neglected youth in a single-parent household, being molested when she was 11, getting into sex work as a teenager, and finally turning to music. However, Vianey is onscreen for only a handful of shots—the rest of the time she's just a voice, accompanied by ambient music or (very rarely) hip-hop beats.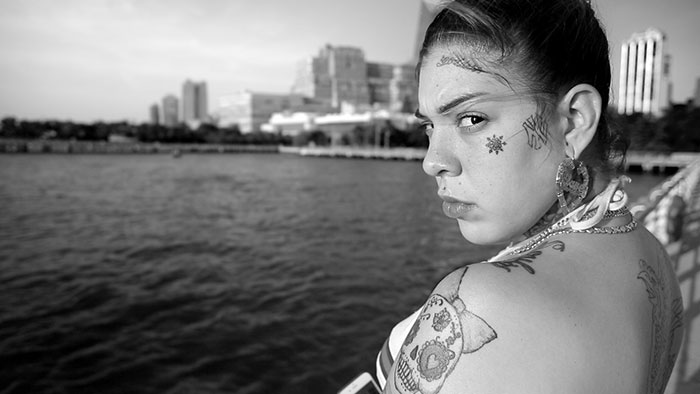 "…interview is compelling and raw, going over her life chronologically…"
That in itself isn't a huge issue—the documentary's minimalist format could have worked as a kind of experimental alternative to more traditional hip-hop documentaries—but Vianey's music is almost entirely absent from Vianey. The film's trailer and marketing play up her rap career, but except for the end credits and a concert scene where the audio fades out after a few seconds, her music is nowhere to be found. I have no idea what would compel an almost-feature-length documentary about a rapper to include almost none of her music.
Because I'm not familiar with Marko Vuorinen's body of work, I don't feel comfortable generalizing about how he does things. Looking at some clips of his other films on his website, though, one can see that "static, black-and-white shots with narration in the background" is a common thread. If that's a signature style that he is trying to mine and refine, more power to him. But I'm at a loss to understand why he applied this style to a profile of an artist whose aesthetic is completely different from his, and why he barely even acknowledged her mode of expression while shoehorning her into his own.
Vianey (2018) Directed by Marko Vuorinen. With Vianey Otero.
2.5 out of 5 stars