Vazante takes us in a solemn journey to 1821 Brazil, where Antonio (Adriano Carvalho), a wealthy cattle herder returns to his secluded estate farm located in the middle of a clearing in Diamantina Mountains, Minas, just to find out that his wife died in labor, together with their baby. To show his power, he brought a few African slaves with him, but promptly abandons the farm in a disheartened state, entrusting his senile mother-in-law, Zizinha (Juliana Carneiro da Cunha), to the long-time servant Joana (Geísa Costa), and the farm to Manuel (Alexandre da Sena), his loyal foreman.
Bartholomeu (Roberto Audio), his cordial brother-in-law, arrives with his greedy wife, Ondina (Sandra Corveloni), and their 12-year- old daughter, Beatriz (Luana Nastas). With Antonio absent, he becomes the master of the house, but his inexperience and softness allow some rebels to escape after making him a hostage. They also steal mules, a price that the penniless Bartholomeu cannot pay. This scene is crafted with limited tension and ends inconsequently. Also superfluous is the presence of Jeremias (Fabrício Boliveira), an efficient planter who vouches to do wonders in Antonio's fertile land.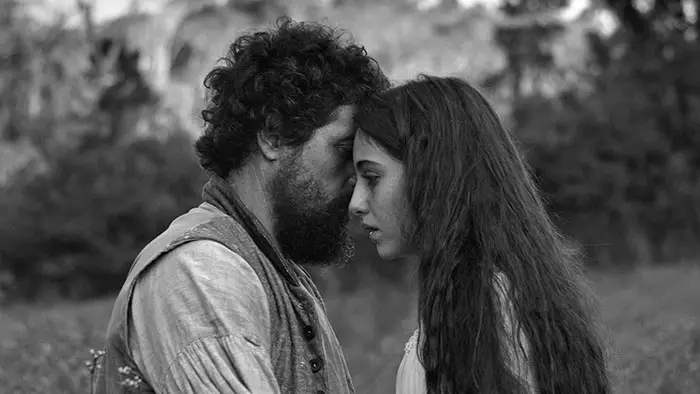 "…a wealthy cattle herder returns…to find out that his wife died in labor, together with their baby."
Antonio eventually returns to the farm. His attention turns to his wife's niece, Beatriz, who, although underage, get her parents' encouragement to marry. This works as a payment for the incident described above as well as a guarantee of future economic stability. All the same, Beatriz's simplicity is observed as she happily eats porridge with the black kids of the house. It's not Antonio she loves. Her heart beats for Virgilio (Vinicius Dos Anjos), the son of Feliciana (Jai Baptista), a slave regularly summoned to sleep with the lord of the house. The film attains its devastating climax when both women, the servant, and the noble lady, get pregnant. Hence, a tragic finale is unavoidable.
Presented with a deliberate languorous pace that makes us absorb every detail while enjoying the magnificent black-and-white cinematography by Inti Briontes (Night Across The Street), Vazante borrows the depressing noir tones of Miguel Gomes' Tabu, the haunting looks of Ben Wheatley's A Field in England, and the issues addressed in 12 Years a Slave as a subplot, without beating any of the three.
Under the supervision of Linha de Passe co-director Daniela Thomas, this emotionally wrenching period drama is culturally and historically valuable. Still, regardless the unblemished visual aspect, enriched with stunning landscapes and contemplative images that oppose the characters' inner conflicts, the script is marred by a shattering predictability.
Vazante (2018) Directed by Daniela Thomas. Written by Daniela Thomas and Beto Amaral. Starring Adriano Carvalho, Luana Nastas, Vinicius Dos Anjos, Jai Baptista, and Vinicius Dos Anjos.
6 out of 10